About Us
Doing business as a family in South Kansas City for over 60 years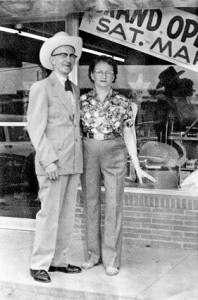 It is a great thing when a hobby becomes a passion and a passion becomes a family business that will span generations. For the Faulkner family, that passion was providing quality service and memorable times to those in their community.
How it all began…
It all started in the 1950's when Bud and Mary Faulkner began teaching square and round dancing lessons. While Bud was the caller, Mary recruited people for the classes. They taught so many people that there was an actual shortage of square dance apparel in the Kansas City area! Mary seized the opportunity and started ordering square dance shoes, petticoats, pantaloons, and dresses which she would sell out of their house. One day, Bud came home from his full time job, hoping to lay down for a nap, only to find a group of women at the house shopping away! It was the next day that Bud found the location at 7914 Wornall Road to open Kansas City's first square dance apparel store. The store prospered and a year later, Margie Benjamin with Benjamin Stables came in and told Mary that if she would stock boots and jeans she would send the cowboys that hung around the stables over to the store to shop.
A family business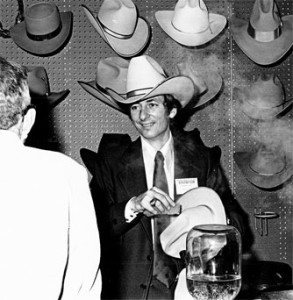 Thus, Faulkner's Western Store was launched and for the next thirty-five years they sold quality clothing, saddlery and tack, and other horse related supplies. The store was more than just a business however, it was a place where their children and grandchildren would learn about the joy of providing quality service to those in their community.
You see, Bud and Mary's children were always involved in the business. Dick, Judy, and Bob were immersed in actual business making decisions at a very young age. Bob and Dick ordered the merchandise for the saddlery and tack departments. Bob also ordered and ran the hat department, where he even became an expert in custom hat shaping and could put on quite the show. Judy was in charge of the ladies apparel department and ordered "top of the fashion curve" merchandise.
It was through these experiences that they developed an appreciation for quality customer service and found true joy in being a part of the family store. However, in 1986, despite a deep love for the store, the decision was made to go in a new direction. At this point in time, Judy retired, while Bob and Dick evolved Faulkner's Saddlery to incorporate the manufacturing of quality show and training equipment which they shipped all of the world. Today Dick's daughter Lisa  Gosselin continues to operate this business and her father's legacy in the Arabian Show Horse world.
An opportunity arises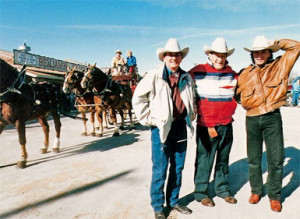 In 1988, Howard Benjamin happened by the Saddlery. Howard was an old friend of the Faulkner family and asked Bob if he would be interested in running the Benjamin Ranch. When Bob took a tour of the ranch he saw that Howard had gutted one half of the horse barn and was renting it to different organizations and people to "do their own thing." Bob saw the opportunity to use this amazing historical landmark as a unique place to host parties and provide entertainment. With the additional help of Marilyn, Bob's wife, and Christine and Matt, his children, the ranch continued to grow and produce quality events with a western themed experience.
In the twenty-five years that Bob and his family have operated the ranch, they converted three more horse barns into corporate ready party facilities. They also continued the tradition of the Annual JC Pro Rodeo and produced hundreds of corporate rodeos for conventions visiting Kansas City or for large companies wanting to entertain their employees and customers. In the last twenty-five years that the Faulkner's have operated the Benjamin Ranch they have produced over 8,000 events!
Another opportunity sprouts up
However, Benjamin Ranch wasn't the only thing that was growing. In 1998, Christine, Bob's daughter was starting her senior year at the University of Missouri-Columbia when he called and said that he had planted pumpkins on their family farm at the corner of View High Drive and Chipman Road. At the time, Christine was unsure of how he would manage adding another project to his already extremely busy schedule. That first year a few schools came out to pick pumpkins, while others were loaded onto wagons and set out by the road. People would come by, take a pumpkin, and deposit $5.00 in the mailbox.
The next year, as Christine pondered what to do with her hospitality management degree, her dad suggested that she move home and "make" a pumpkin farm. While the thought of being a "pumpkin farmer" didn't seem too exciting at first, the love of event production and entrepreneurship that she had learned from her parents and grandparents took over.
1999 was the official start of Faulkner's Pumpkin Farm. Since then, the Pumpkin Farm has grown from employing just a hayride drive and some goats, to touring over 10,000 school children in the month of October and hosting thousands of families each weekend. From August to October, Christine would manage the Pumpkin Farm and then return to her regular position as events coordinator at the Benjamin Ranch.
A dream is realized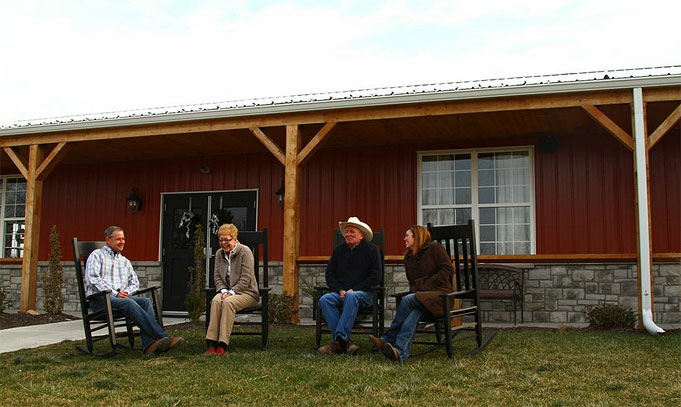 In 2008, the Faulkner family realized their dream when they bought and developed their ultimate event venue Faulkner's Ranch. Located just south of Interstate 470 and Raytown Road. Here Bob, Marilyn, Matt, and Christine all "Pardners" together produce complete parties and special events for the community.  Operating on the same lessons that Bud and Mary did when they opened their first store and that's by providing quality service and look to make the customer's experience as easy and fun as possible.
Food, entertainment, and interactive fun all in one place. Combining the Pumpkin Farm into a season at the new ranch and providing facilities to incorporate all they had learned over the past twenty-five years of producing events, the Faulkner Ranch facility is a great place to have a party.
We party for a living but truly live for your party!
Events include:
Company Picnics, Holiday Parties, Meetings, and Team-Building
Client Appreciation Events
Weddings and Receptions
Pumpkin Season Field Trips and Festival (during the month of October only)
 The 25-acre property features:
Banquet Barn for indoor seating and events
Picnic Pavilion for outdoor seating and events
Pony Party Place complete with celebration rooms and indoor petting farm
Wild Western Playground
Ranch Recreation area
Picturesque wedding arbor overlooking the pond
The Ranch also features a licensed commercial kitchen and beautiful Bridal Changing Suite.
During the month of October, The Ranch swings open its gates to the public for Pumpkin Season. This annual Fall event provides daily seasonal entertainment, activities, and food that bring guests back year after year.
With over 60 years of combined event planning experience, the Faulkner's can ensure that your event will be stress-free and fun.   When you book your event at Faulkner's Ranch, you will receive top quality service and entertainment provided by our event planning professionals.