Word From the Herd: A Victorious Watch Party
Posted on August 12, 2012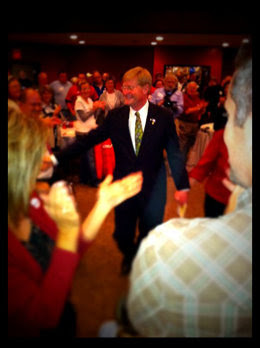 Jacob Turk greets his supporters and volunteers at his watch party on August 7th at Faulkner's Ranch.
Faulkner's Ranch
is for more than just picnics and birthday parties. This past week we were part of Missouri history as we hosted a watch party for
Jacob Turk
of Lee's Summit, who won his fourth primary with a huge lead to become the Republican candidate in Missouri's 5th District race for U.S. House of Representatives.
This opportunity came to us through two of our favorite people Tim and Nona Luke. Nona is one of our scarecrows here at the ranch during
Pumpkin Season
and she, along with her husband, volunteered to help make this event happen.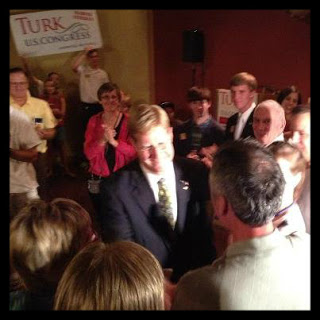 Jacob Turk thanks supporters and volunteers at his watch party at Faulkner's Ranch.
The night was definitely an exciting one! In fact, here is what Jacob Turk had to say about the event:
Election night was awesome! I appreciate all who came to our 'watch party' at Faulkner's Ranch. The food, fellowship and commraderie sure was a wonderful way to watch the election results roll in. And the pony rides, zip line & Nancy's face painting were a big hit with the kids.
Please "Save The Date" right now for our watch party (Victory Party!) on November 6th from 7pm until the race is called – probably will be late that night so plan on going into work late the next morning.
In fact, would you please go ahead and arrange election day & the next morning off now? Because as much effort as the primary took, the general will surely be a 'all hands on deck' assignment.
All my best with sincere thanks,
Jacob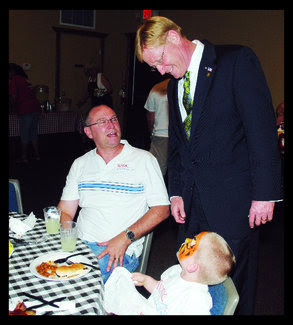 Jacob Turk greets supporters Ken Serig and Trustin Serig, 5, of Lee's Summit, at his campaign watch party. (Photo from the LS Journal)
We were honored to host such a great group of supporters and volunteers. Once again, congratulations to Jacob Turk on his victory and campaign.
Good luck in November!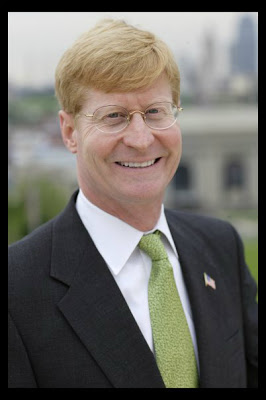 Jacob Turk will be running for U.S. Congress in November.
For more information on the primary election and Jacob Turk's victory, check out
this article
from the Lee's Summit Journal.
To learn more about Jacob Turk and to stay up to date on his road to Congress visit his
website
or like his
Facebook page
.
Have a great day everyone and don't forget to vote this November!