Word From the Herd: An Eventful Weekend
Posted on April 23, 2013
Early in March we hosted two unique (and very fun!) events.
The first was with the
Lee's Summit Basketball Association
on March 3rd. They celebrated their board appreciation dinner here at the ranch. One of the most special moments of this event was when they recognized one of their referees for the way he handled himself during a stressful situation at a game. A random fan saw his behavior and felt that it should be commended. They wrote a letter to the board to let them know how this awesome 21 year old stayed composed and set an example for everyone watching.
Applause for a job well done.
The next event was one of our favorites of the year – The Sears Power Rama Training!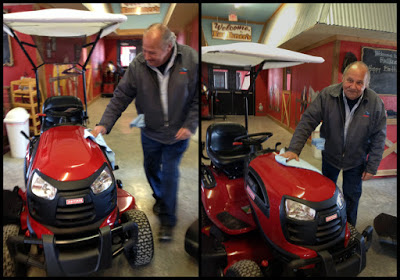 "Schmitty" polishing up the new lawn mowers.
This event, which took place over the course of three days, was a lot of fun. Each day, the Sear's lawn and garden sales associations would come in to train the Sears employees on their products. One of the reasons that we love this event every year is that it signifies one thing – Spring is coming!
The Sears employees and truck drivers are so incredibly nice. They are all so fun and friendly to work with. The truck drivers even went out of their way to give one of the Faulkner grandchildren, Miles, a special tour of their big rig. Wasn't that nice of them? And not only that, but they also gave him a t-shirt which totally made his day. He even wore it to school the next day!
So, as you can see, we do more than just pumpkins here at Faulkner's!

Have a great day, ya'll!