Word From the Herd: Chili Cook-Off
Posted on April 18, 2013
All of the proceeds went to the charity, so guests weren't just treating their tummies to some yummy chow; they were also helping out a good cause!
It was a snow day which made for absolutely perfect chili-eatin' weather…
There were 28 entries in all. So much good food to try!
We even entered our own chili…
Unfortunately, we didn't place, but we did have a ton of fun working the event together that night!
And of course, we can't forget the woman behind it all, Nancy Baalman! She was truly a joy to work with as we planned this event.
Now, I bet you're all wanting to know who won, right?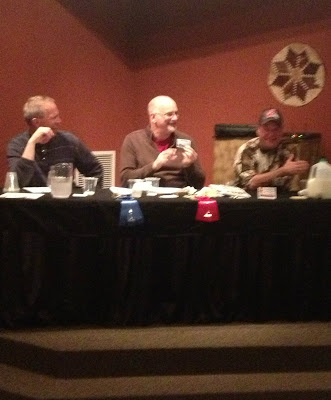 Accepting bribes? ;o)
But they finally picked a winner! There he is, the man in red with the red hot chili!
He was a ton of fun. In fact, we knew that he was going to win when we met him. His chili had tri-tip steak (yum!) and he did such a fantastic job of promoting his chili. He really sold it!
Congrats! Congrats! Congrats!
Have a great day ya'll!