What to Bring to the Pumpkin Farm
Posted on October 2, 2013
Yesterday we shared with you some
helpful tips and tricks
to make the most of your trip to the Pumpkin Farm. Today we are doing a little more to make sure that you have the best time ever when you come to see us by giving you a checklist with some things you might want to bring.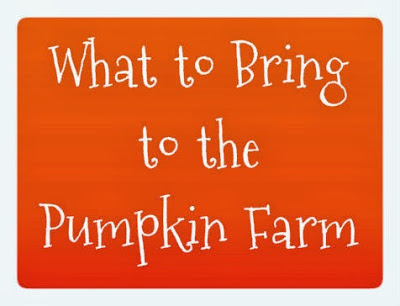 Camera or Camera Phone – Gotta be sure to capture all of those fun moments! Make sure it is fully charged the night before. You might even bring some extra camera batteries just in case.
Purse/Backpack/Diaper Bag
Stroller or Wagon – At Faulkner's Ranch, we are stroller friendly! Paved sidewalks lead to almost every attraction making it easy to get around.
Hand Sanitizer – We have hand sanitizer stations (those goats can get pretty sloppy when they eat sometimes), but it is always a good idea to have your own, especially if you would like to avoid the line.
Jacket/Coat/Hat/Gloves – You never know what the weather is going to be like in October in Kansas City. That is why we recommend dressing in layers.
Comfortable Shoes – With the variety of activities that are offered at the ranch, we recommend wearing close-toed, comfortable shoes.
Sunglasses/Hat
Sunscreen
Coupons – Have you seen the one in KC Parent magazine?
Extra Money – You'll need this for pumpkins, food, gift shop items, and certain extra attractions (i.e. face painting, pony rides, etc.)
Towels for the Car – We have a Pumpkin Wash station to get your pumpkins nice and shiny before you bring them home. However, it is still a good idea to bring a towel to place them on so that you don't get any dirt on your car floor.
And of course, don't forget to bring all of your Pump-KIN!
Faulkner's Ranch
is a great place to bring the whole family. After all, we are a family-owned and run business. In our opinion, the more family the merrier!
We hope this list is helpful! If you think of anything else to add, please let us know!
Have a great day, ya'll! See you out at the ranch soon!