Posted on November 27, 2012
For the past few years we here at Faulkner's have started and continued a tradition that has become a favorite for everyone involved:
This year we had around 40 of our friends and family there to take part in all of the fun.
The only rule is that you can't repeat what someone else has already said.
From family, friends, and new babies, to employment and togetherness we covered it all.
After our Thankful circle, we say grace and then it is time to eat!
And boy did we ever chow down! This picture of the buffet line doesn't even do it justice – in fact there were two other tables filled with appetizers and desserts!
There was so much delicious food contributed by everyone that you could barely fit it on your plate!
After everyone was completely stuffed it was time for our favorite game of the night:
White Elephant Pirate Bingo!
Here's how it works…
When someone wins a Bingo they get to go choose a gift from under the tree.
Everyone brought something that was either from around the house or worth under $5.
Here's the catch though! That gift can be stolen by future Bingo winners up two times.
Needless to say, it gets a little bit rowdy when those Bingo cards come out!
Here were a few of the amazing gifts from this year…
It's hard to believe that some of these were never stolen. I wonder why…
Anyway, the rest of the evening was filled with lot of pumpkin pie and laughter.
What about you?
What Thanksgiving traditions do you have?
We'd love to hear all about them!
Have a great day ya'll!
Posted on November 22, 2012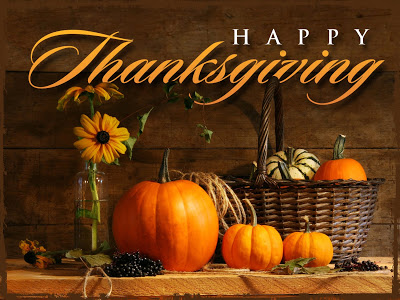 Thanksgiving is a very special time of year that allows us to reflect on all the wonderful blessings that have been bestowed upon us. Here at Faulkner's we have so much to be thankful for.
Just see below…
"I am thankful for all of our customers that have graciously supported the ranch this past year and our wonderful staff that tirelessly serves them."
– Bob Faulkner, Owner
"Of course I am thankful for my hard-working husband and healthy, happy kids. Professionally I am thankful for my mentor. To work 16 years alongside someone with over 50 years of experience has been incredible. I have learned so much from his wisdom and feel that every successful business person needs a mentor such as I have in Bob. Also, I am thankful for my mother who with Bob really built our event planning business from nothing. And lastly, I'm thankful for the opportunity to conduct business freely (for the most part) in the land that I love, provide jobs, be creative, and love what I do!"
– Christine Loneman, Manager
"I am thankful that I get to be part of this wonderful family business even though we live three hours away. I'm also thankful for my loving husband, my cuddly pooch, our warm home, and of course, our beautiful baby girl that is on the way!"
– Kelly Jo Jordan, Director of Social Media
"I am thankful to have Benjamin Ranch and Faulkner's Ranch in my family's life! The work experience it offers is incredible and the memories it offers will be treasured later in life. The fun and family togetherness it offers is an amazing blessing. The ranch fulfills a place of belongingness and without it, our family would incomplete."
– Lisa Gosselin, Creative Genius
And of course, we here at Faulkner's are all thankful for something absolutely wonderful – YOU!
So, from all of us, to all of you,
Happy Thanksgiving folks!
Posted on November 25, 2011
We here at Faulkner's Ranch are thankful for so many things…
our family, our friends, and being blessed with a wonderful family business that makes us love going to work each day.
Since moving to our new location on Raytown Road, it has become a tradition for the entire family to get together at the ranch for a huge Thanksgiving dinner celebration. We usually have between 30 and 40 people to celebrate with which means lots of laughter and LOTS of food!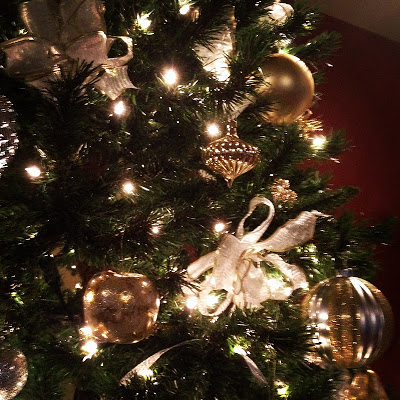 We start the evening by getting in a big circle and each saying what we are thankful for…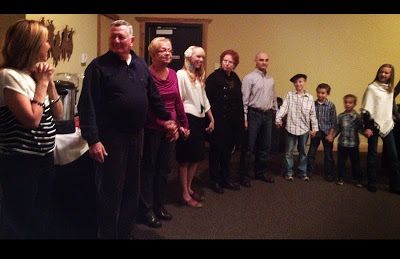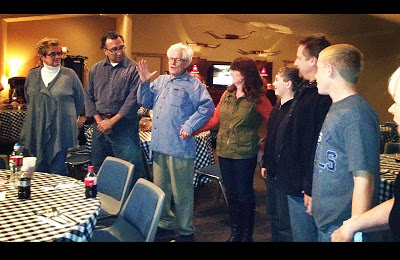 Then it's time for the food and we aren't joking around when we say there is lots of food! Everyone brings their favorite dish so everything is absolutely delicious.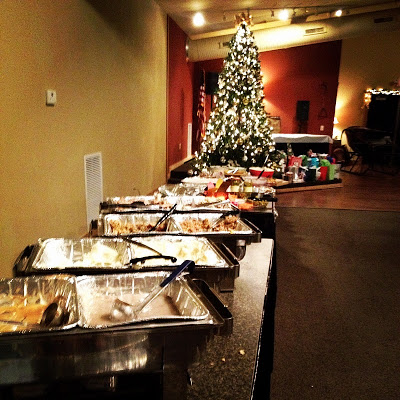 Once we are all stuffed we start the rather competitive game of Pirate Bingo.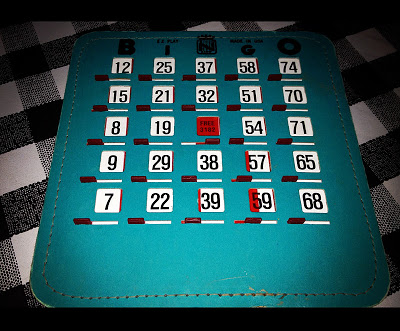 It works like a White Elephant Christmas Exchange. When you win Bingo, you pick a gift…however that gift can be stolen up to three times by other winners.
Some people get the best seat in the house for this…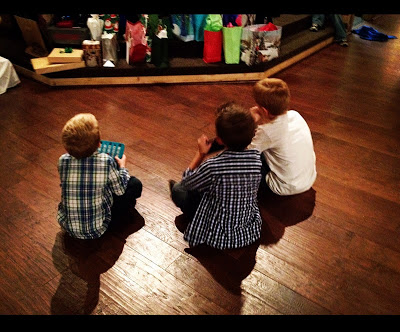 Especially since the game can get pretty intense…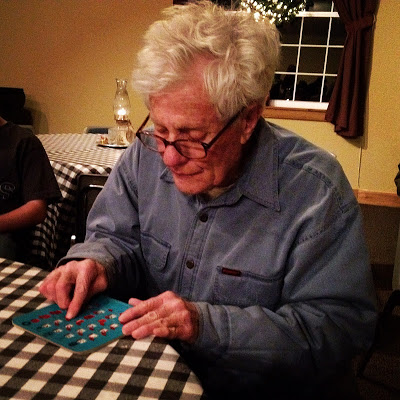 and some tables don't have much luck and start to get rowdy…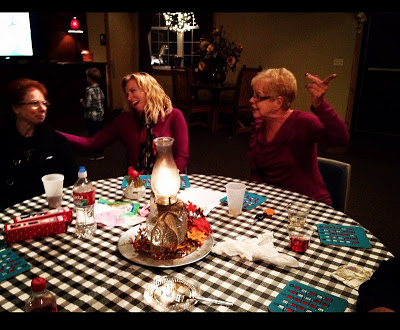 But luckily our beautiful Bingo callers keep everyone in line.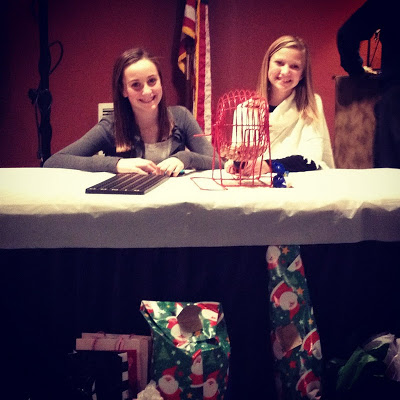 In the end, everyone scored some pretty awesome gifts, like Jamie with his boa covered plunger.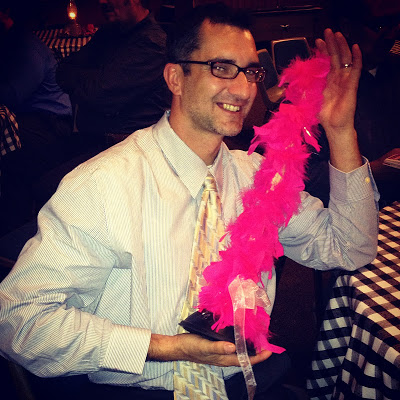 Overall, it was a fantastic evening!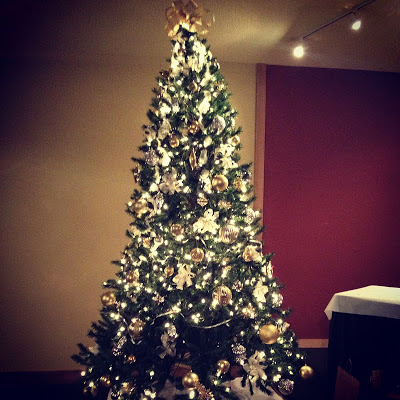 We hope that all of you had a wonderful Thanksgiving too!
Stay tuned this month for more delicious holiday recipes, DIY Christmas gifts, and awesome party planning tips.
Happy Thanksgiving!
~ Your Friends at Faulkner's
To read more about our family traditions,
click here
.