Posted on August 29, 2012
This weekend was a sad one here at the ranch.
One of our most beloved ranch animals passed away.
Tex, gentle giant died peacefully on Saturday morning of old age.
Tex was more than just your average longhorn steer.
We first met Tex when he was touring the rodeo scene and made a stop at the Benjamin Ranch Jaycee's Pro-Rodeo.
Despite his ginormous size, he was as gentle as could be. Children loved getting their pictures taken while they sat upon him.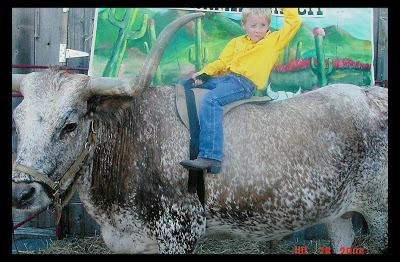 Sometimes it took quite a bit of bravery to muster up the courage for a picture. After all, he weighed as much as a car or small truck. However, that fear would disappear as soon as they would pet him. Tex was as harmless as could be.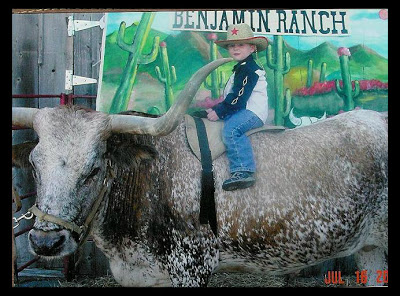 In 2004, after years of touring the rodeo scene and making people smile, it was time for Tex to retire.
When Bob heard that Tex was no longer going to be traveling on the road, he decided to purchase him and make him a part of the Faulkner Family so that he could spend his last years grazing in the fields and being adored (and very spoiled) by the kids during Pumpkin Season.
It goes without a doubt that Tex will be greatly missed.
It also goes without a doubt that he will be fondly remembered as one of the most gentle and adored animals that we have had the privilege of caring for.
Happy Trails Tex!
Love,