Posted on December 2, 2012
Every year, a week or so after the Pumpkin Season has come to the close, when everyone has had a chance to re-group, re-fresh, and start to miss each other, we have a special little tradition that takes place here at the ranch:
At this special get-together, we like to honor our fearless scarecrow tour guides are joined by invited guests, cashiers, our trusty hayride driver, and the PPP's (aka Pumpkin/Parking/and Pavilion Helpers).
So of course, we wanted to share with you all about just how amazing they are!
After all, these awesome people deserve more recognition than we could ever give them!
This yearly tradition is always a blast and this year was no exception!
After our delicious lunch it was time for the special program and awards. The program began with a few slides of our beautiful pumpkin patch and recognition to all that made it possible.
Fransisco was also called up to share his story about his special pumpkin hybrid from Mexico. You see, two years ago he brought back from his native country a handful of Indian Pumpkin Seeds. Indian Pumpkins are grey in color and make the best seeds for toasting and eating – a love that both Fransisco and Christine share. The first year he planted them he got 4 plants and 2 pumpkins. This year he planted them again and got several pumpkins, but the most interesting part of the story is that now the pumpkins have crossed and made their own variety!
We owe so much to Fransisco and his crew, Antonio and Pedro, for all that they do. Their hard work in the patch is what brings so much joy and excitement to the many school children that visit throughout the season and search for the perfect pumpkin to take home from their field trip to Faulkner's.
Another highlight of the program included a slide show from the season set to the song "We Are Family". Although our scarecrows and staff are not related by blood, we can't help but feel that they are. We could not host 10,000 school children in 20 days without this amazing, caring, smart, funny, compassionate team that works together for the common cause of sharing our love children and pumpkins!
To close the ceremony, each scarecrow and Farm Loneman (our wonderful hayride driver) was given a special pumpkin with a number on it. The number represented the number of years that they have worked at Faulkner's. It is amazing to think that our 2012 team had 68 total years of pumpkin experience together!
Christine said, "As I totaled up the years I couldn't have been more proud to know that each school child and teacher that visited the Ranch this pumpkin season was in such good hands. We even tallied the number of hayrides that Farmer Loneman had given throughout his 13 years – 10,920!!!
Incredible!"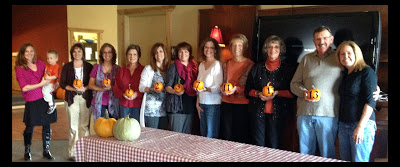 Tracy – 1 year, Glenna – 1 year, Jennifer -1 year, Morgan – 1 year, Pam – 3 years, Nona – 7 years, Karen – 11 years, Betty -13 years, Farmer Loneman – 13 years
The rest of the luncheon was spent sharing funny stories that are now wonderful 2012 Pumpkin Season memories!
In conclusion, we just can't thank our awesome team enough for their hard work and dedication! It's humbling really to be surrounded by such wonderful people that have the best interest of our business in mind on a daily basis. We just can't thank you enough!
Have a great day ya'll!