Posted on October 18, 2013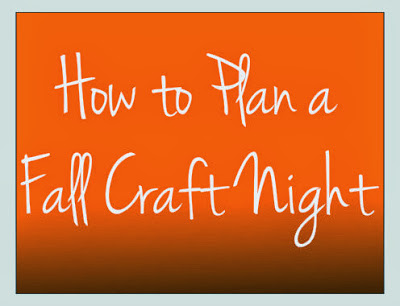 Hosting a Craft Night (or a Pinterest Party as many like to call them nowadays) is easy and fun!
Here are a few tips and tricks to make your Fall Craft Night a success!
The Food:
Make it easy on yourself and go potluck style! As the host, cook a dish that can serve a large group (we love this
tortilla soup recipe
). Then ask your guests to bring everything else. You can even offer up ideas such as salad, sides, desserts, etc. Feel like making dessert too? Try our easy
Faulkner's Fallfetti Popcorn
recipe which is great to snack on while crafting!
The Drinks:
If you want to go the festive route, we recommend this easy
Fall Apple Cider Party Punch
that we shared yesterday. However, you can also serve something simple like water and tea. Don't hesitate to ask guests to bring a bottle of wine.
The Decor:
Keep it simple and stay with your normal fall decor. Don't have a Fall centerpiece on your table yet? Use our
tips and tricks
to create one of your own! Also, make sure that you have enough space on your countertops or table to put all of the potluck food. Your counters may look bare before your guests arrive, but trust us, once they are there you will be searching for space to put the delicious dishes.
The Craft:
Here are the things to consider when choosing a craft.
Cost: Since you will be purchasing materials for several crafts, keep this in mind. Choose crafts that you can buy the materials in bulk like ribbon, buttons, etc.
Cleanup: Either choose a craft that does not make a huge mess or provide a small trashcan on the table to put materials.
Tools/Materials Needed: Avoid choosing crafts that require hot glue guns since those tend to be messy. Gluing one thing to a pumpkin is no big deal, however if every single thing needs to be hot glued you will find it to be troublesome. You want the craft to be something you can talk during, instead of something that requires too much attention.
Can your guests take it home right away?: You want to avoid using paints or things that will have to dry.
Two great places to find your craft are
here
on our blog. You can see our pumpkin ideas right here. Or you can check out our Pinterest Boards dedicated to
Pumpkin Ideas
and
Cool Country Crafts
.
Other Things to Consider:
Music sets the mood. Set your iPod or computer to Pandora and crank it up. For Fall, we love the Mumford and Sons or Today's Country Hits stations.
Before parties, it is always a good idea to turn the thermostat down. All of those extra bodies can cause it to get warm.
Follow these tips and you'll be sure to have a Fall Craft Night that everyone will enjoy!

Have a great day, ya'll!