Posted on March 8, 2013
Lately our weekends here at the ranch have been filled with the cutest little cowboys and cowgirls coming to celebrate their birthdays
We just love seeing the awesome ideas that their mamas and papas come up with. We especially love seeing what theme they choose!
This month we had a super cute theme that we just had to share…
A Princess Pony Party!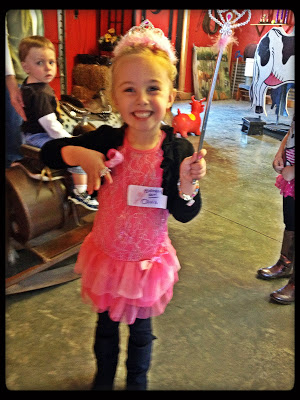 Meet Olivia! The Birthday Girl and Princess for the day!
Last year she celebrated with us with a cowgirl themed party, but this year she brought the sparkle and the glitz with a super cute princess theme.
Of course, Olivia was dressed for the part complete with a tiara and wand! And check out that ring on her finger! This party was all about the bling – lots of sweetness and sparkles!
Party Tip: In the invitation, encourage your kiddo's guests to dress according to the theme! It not only gets them excited for the party, but it also makes for some really cute pictures on the big day.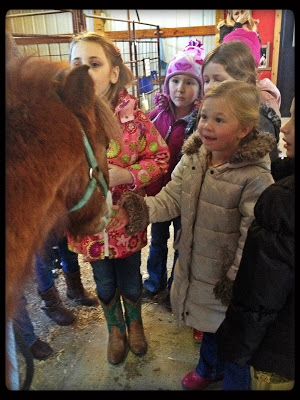 We just love it when our pony campers come back to the ranch to celebrate their birthdays. It's so much fun to see them reunite with their
pony camp
pony and show what they learned to their friends. Plus, the ponies
LOVE
all of the extra special attention.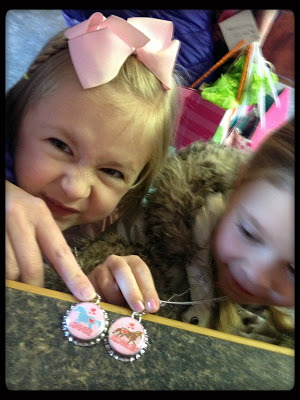 A good party favor is a great way to thank your guests for coming and a fantastic way to give them something to remember the fun that they had. We just love the party favors from this party! Aren't they cute?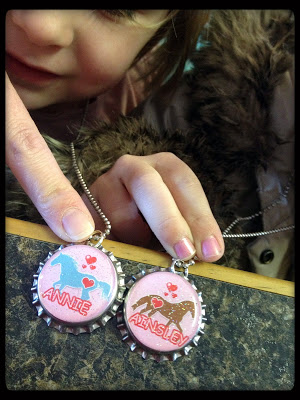 Her mom ordered these personalized bottlecap necklaces from Etsy to give to all of the girls.
Party Tip: With handmade or personalized party favors, it is important that you know your guest list well in advance so that you get them ordered on time.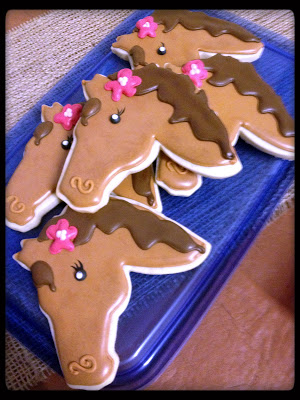 The cuteness didn't stop there. Just look at the adorable pony cookies that were served.
Not to mention this princess cake…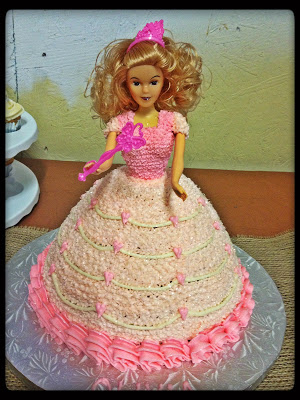 Can you believe that her mom made it herself?! Way to go, mama!
Party Tip: Even one really creative snack that goes along with your theme, like the cookies above, will leave a lasting impression on your guest.
Needless to say, this was a super fun party with a super fun little gal!
Thanks for celebrating your birthday with us again, Olivia! You rock!

Interested in throwing a
Pony Party
at the ranch for your little cowpoke?
And don't forget to sign up for
Pony Camp
! Sessions are booking fast!
Have a great day, ya'll!
Posted on February 18, 2013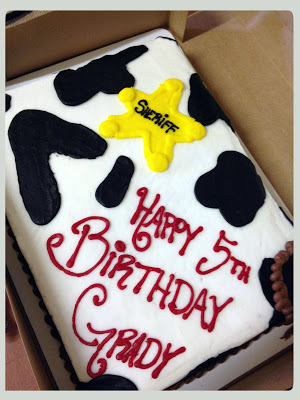 One of the super cool birthday cakes we've seen here at the ranch!
We've mentioned it before, but we'll say it again…
Not only do we get to meet some of the coolest little cowboys and cowgirls, but we are also just blown away by the creativity of their parents.
Just check out some of the awesome ideas and pictures from a few weeks ago!

This little cowgirl attended
Pony Camp
last summer. She takes horseback riding lessons and told us that she is now a "professional rider." You go cowgirl! That's why she wanted to celebrate her birthday at Faulkner's Ranch. She wanted to show her friends where she got her start! Isn't that cool?!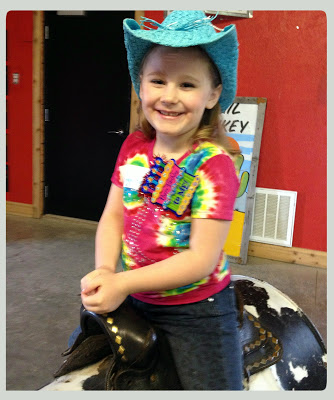 Here's another sweet cowgirl! We just LOVE her style. Pink hat, pink bandanna, pink horseshoes on her shirt! She is rockin' the western chic look for sure!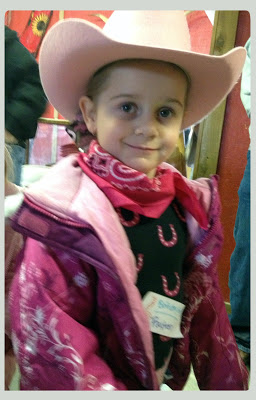 And check out the amazing cake that her mama made. Isn't it unbelievable?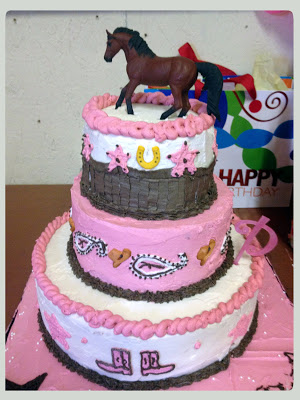 Not to mention these super cute party favor bags…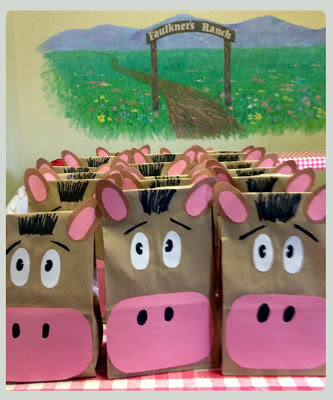 Are you interested in having an
Indoor Pony Party
at Faulkner's Ranch? Just check out our website for more info and then give us a call at (816) 761-1234. We'd love to help you celebrate the special day!
Have a great day ya'll!
Posted on January 14, 2013
And boy were they a rootin' tootin' good time!
We just love seeing all of the creative ideas that our pony party mamas and papas bring with them and the ones from this weekend were just too great to not share!
Just see for yourself!
This beautiful cake and colorful cupcakes were for a party of two sisters that attended
Pony Camp 1
last summer. We love the splashes of pink! So fun and girly!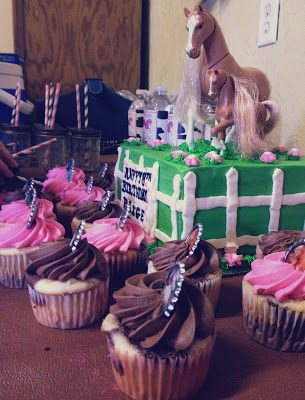 Speaking of those two sisters, aren't they just the cutest! They will be attending
Pony Camp 2
this summer and are anxious to know who there ponies will be!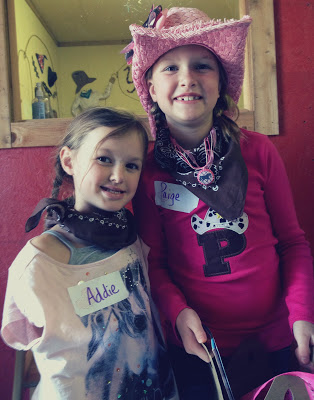 Looking for an easy to make and adorable party favor? This mama found the perfect one with these s'mores kits to take home! Pretty darn cute if you ask us!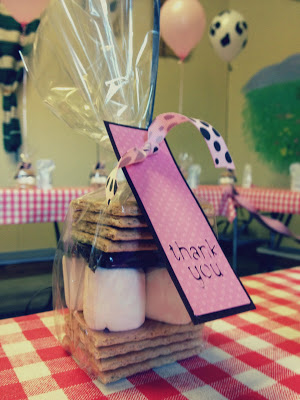 We love seeing the high fashions of the party guests. After all, who says you can't wear a pink tutu to the ranch?!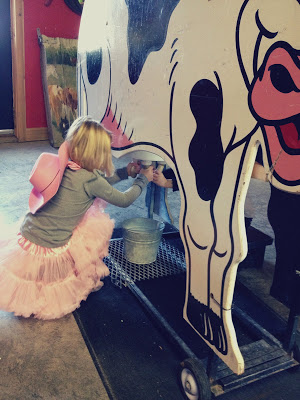 This rootin-tootin 9 year old cowboy birthday party had a great table setup, completely with a cowboy hat and personalized rootbeer!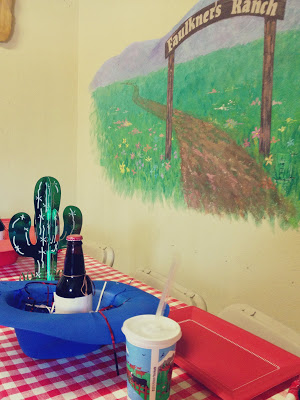 Speaking of that custom rootbeer, isn't it another great idea for a party favor?!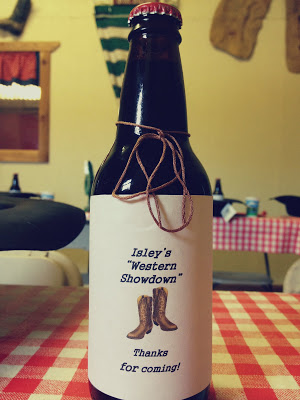 We were also pretty obsessed with this awesome table runner that was made to look like chaps!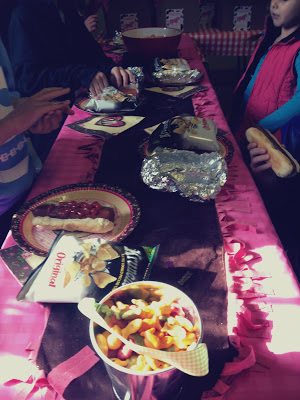 This decor was just too pinworthy to not share! You can find cool metal letters like this at Hobby Lobby!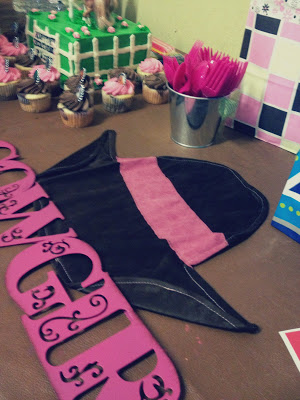 So, as you can see, there are a ton of different ways that you can make your Pony Party your own!
Which way would you go?
Have a great day ya'll
PS – Interested in having your kiddo's birthday party at Faulkner's Ranch? Check out all of the benefits of booking an
Indoor Pony Party
!