Posted on June 3, 2013

For me, there were a few of things that made this particular group really extra special.
1. Kim Helwig was here! We went to LSHS together. She graduated one year behind me (so of course I made her sign my 93/94 yearbooks!). It was tons of fun watching her and her co-workers go through our old yearbook checking out just what she was like back in high school. What is even cooler than that? Kim then went on to become my Gamma Phi Beta pledge daughter at Mizzou, cirque 1995/96! She hasn't changed a bit and still knows how to work hard and play hard! I guess I taught her well 🙂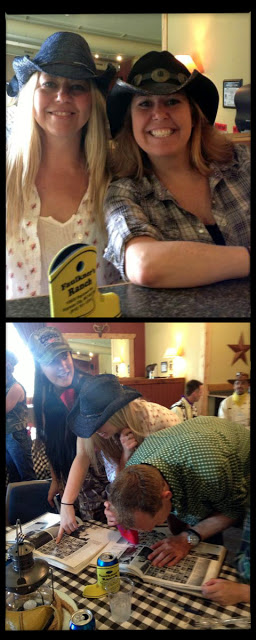 2. There was also another very special guest at the party, our very long lost cousin Seth Faulkner! Well, there wasn't actually any real relation, but he was just as fun and friendly as all our other cousins and he fit right in!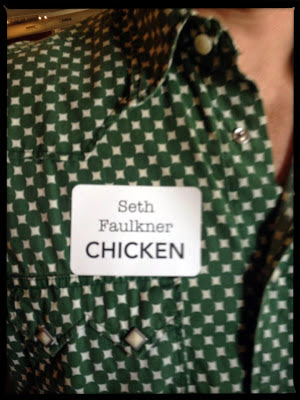 3. I have always had a crush on this company. It goes way back to when I was wondering what to do with my life. If I hadn't ended up at the ranch, I would have loved to have worked in a company like MMGY Global. Coming up with creative ideas for people would be right up my ally! I love all of the personalities in think tank type companies and this company's creative ideas for the event were flowing way before they even arrived at
Faulkner's Ranch
.
Speaking of those creative ideas…
The thought and extra mile that the committee put into planning their outing to
Faulkner's Ranch
showed!
1. They arrived on school buses! You know I LOVE a company that transports their people to and from the party! It's such a nice touch. The planners don't have to worry about giving directions or parking and the attendees get to sit back and enjoy the ride. Providing transportation unifies the group right off the bat in turn setting the tone for the event.
2. They divided into teams before they arrived. For our team-building events, we can do it either way. However, by pre-dividing into teams before their arrive it allowed them time to get into spirit and costume! I for one loved the signs they were able to print in house and bring for each team. Such a fun idea!
3. The prizes were worth competing for!!!! These planners secured gift cards from vendors and clients to places like Amazon, Standard Style Boutique, Anthropology, and Southwest Airlines in amounts ranging from $150 – $500. First place was well worth milking the cow and dressing the goat – one COMP day! A paid day off? Earned by being silly and bonding with my co-workers on a beautiful afternoon at the
Ranch
? Not a bad day at the office!
I had such a blast with MMGY Global! Can't wait to party with them again!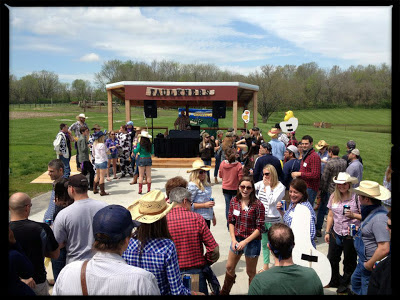 Gearing up to have some fun!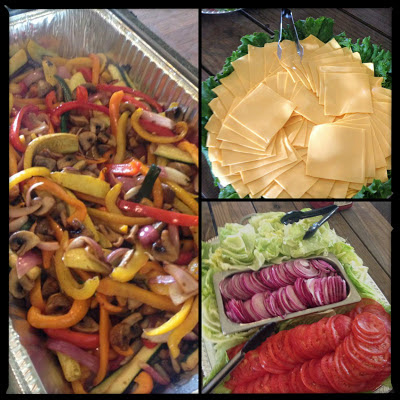 Mmmmm!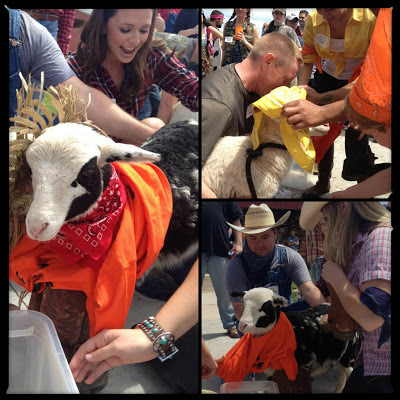 Goat dressing brings everyone together!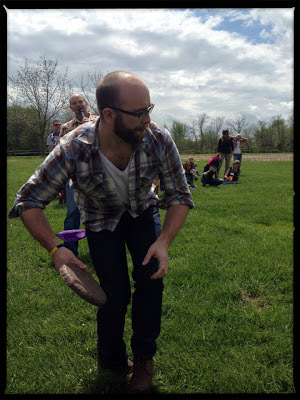 Nothing like some cow patty golf!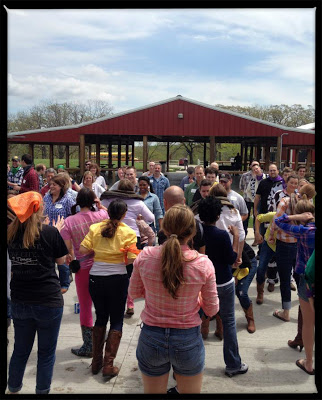 The horse collar relay is a good way to get to know your fellow employees!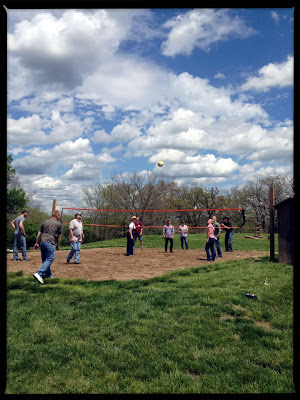 Fun in the sun with some sand volleyball!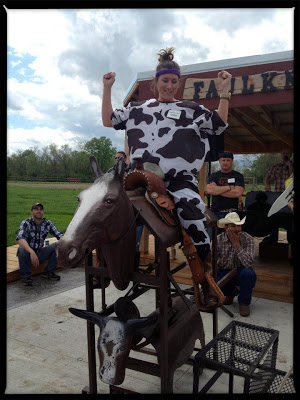 A cow on a horse. That's new!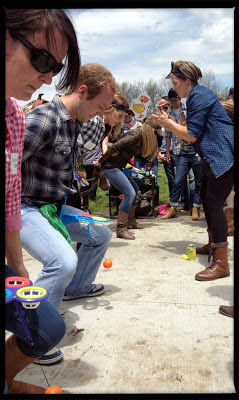 Nothing like a game that makes everyone look awkward!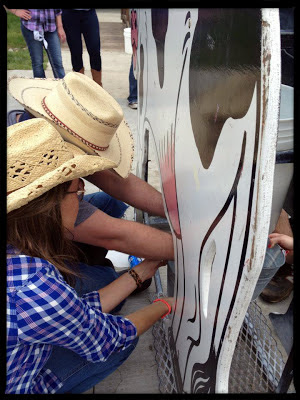 Cow milking requires some serious teamwork!
That's the Word From the Herd!
~ Christine

Are you interested in having your
team building
event at
Faulkner's Ranch
? Just give us a call at (816) 761-5055 or
visit our website
for more info! We'd love to tell you all about how we can bring your office together for a rip-roarin' good time!
Posted on January 5, 2013
So, you're having a company party!
Maybe it's a post-season holiday party or a new quarter kick-off. No matter what the occasion, you want to make it the best it can be. Well, have no fear – we're here to help!
Here are 5 things that you can do to make your holiday party more than just the average office party!
Have the party going before the guests even get to the venue – aka get a party bus! Not only does this start the fun, but it is a great way to get your guests safely to and from the location, especially if you are having liquor. Plus, you can keep the party going afterwards by driving around town before heading back to your starting location.
2. Hire Amazing Entertainment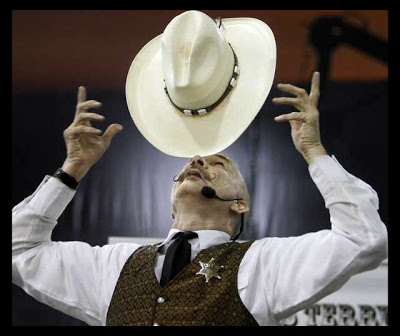 It's not every day that you get to see a Wild West Show or a hilarious magician. Give your employees that treat! Not only are most of these shows interactive which means that it will get them involved, but they will be talking about them around the water cooler for weeks to come.
3. Give Away Awesome Party Favors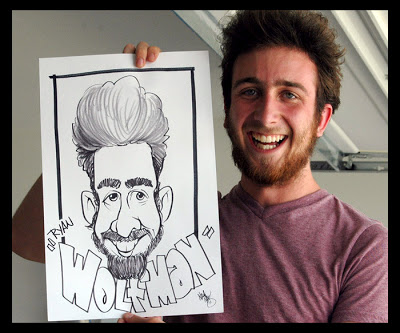 What's great about having party favors is that you can get more bang for your buck if you do it right. Hire a caricature artist or rent a photo booth. These will provide great entertainment during the party and give your guests something to take home to remember the fun that they had!
4. Have a Specialty Drink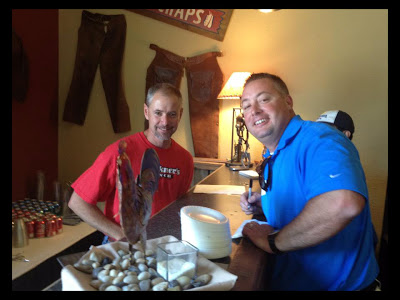 Come up with a signature cocktail for the night. Give it a fun name that is special to your office or what you're celebrating. Then provide the recipes either at the bar or in an e-mail the next week when you thank everyone who attended! Check out how Kansas City Internal Medicine did this at their holiday office party with their specialty cocktail called "The Elf."
5. Get Silly!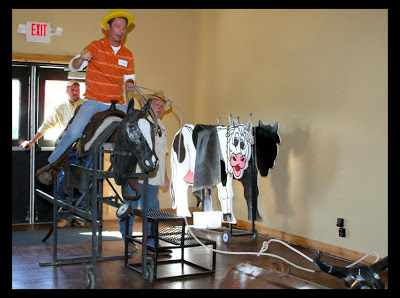 Believe it or not, people LOVE to play games at parties, whether it be a scavenger hunt or something like a contest to see who can stay on the mechanical bull the longest. Need help thinking of ideas? Hire a Ranch J to lead games for you! They have a ton of them in their back pocket and are awesome at getting everyone involved.


Trust us, if you do any or all of these things then your employees will be sure to have an AMAZING time!
Now all you have to do is give us a call at 816-761-1234 to schedule your super fun event! And be sure to check out
our website
for more info!
Have a great day ya'll!