Posted on April 11, 2013
We LOVE helping people celebrate the important milestones in their life.
That's why when Sandy Hoffman came to us about celebrating her husband Gary's retirement at
Faulkner's Ranch
we were absolutely thrilled! Sandy works for us part time helping with events and she is by far one of the nicest ladies that you will ever meet.
We had so much fun helping her celebrate this big event. Everything from the decor to the guests to the special touches was executed with perfection.
Here is what she had to say about the big day:
"Everyone thoroughly enjoyed themselves; the guys were like a bunch of old women! Tall tales galore!"
Wanna know how to throw an awesome retirement party?
Just take a note from this party and follow the steps below!
1. When everyone arrives, ask them to sign in. But don't just have them sign any old thing! Do what Sandy did and have a framed picture available for them to sign. This not only will serve as a "guest book" down the road, but it will become a beautiful keepsake that they can hang in their home.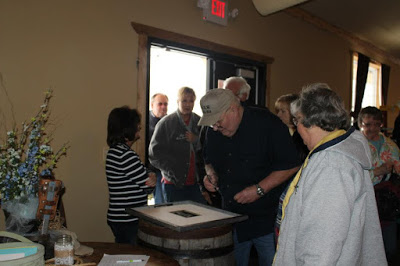 2. Get the drinks flowing! Open up the bar right away. Make sure that you have plenty of options. It's always good to start with soda, beer, and wine, as well as some water, iced tea, and lemonade. That way you have something for everyone!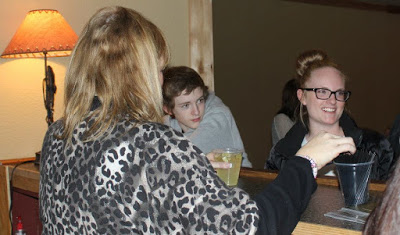 Sandy's granddaughter is served by her mom and watched by her brother.
3. Have some fun decor! Choose decorations that pay tribute to the retiree's line of work. We love the use of construction cones and signs for this party.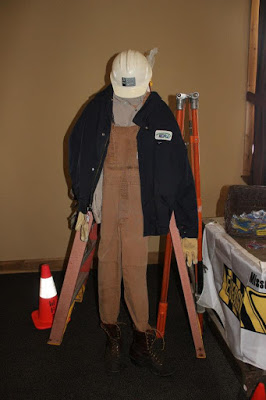 Meet Mr. Electricity! He came complete with hot sticks, boots, lineman belt, and a hard hat!
4. Now open up that buffet! It's time to serve the food! Take a note from this party and open up both sides of the buffet at once. That way everyone gets to start chowing down sooner.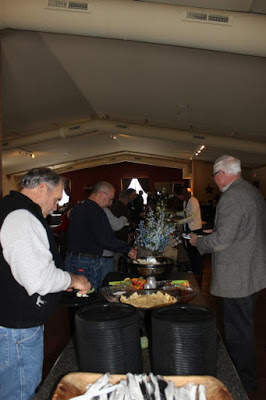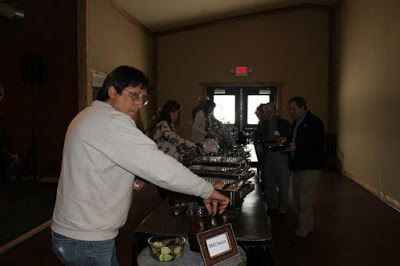 5. Once the food has been served, turn on some tunes and let everyone sit down, eat, and talk each other's ears off.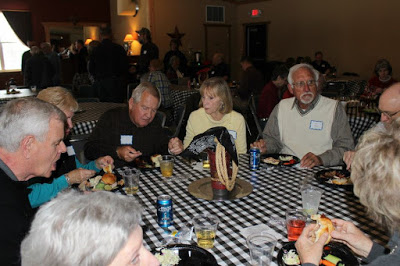 Eat and talk….and eat some more!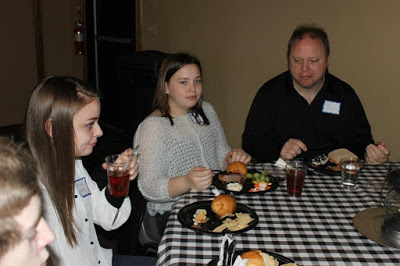 Family Chow Time!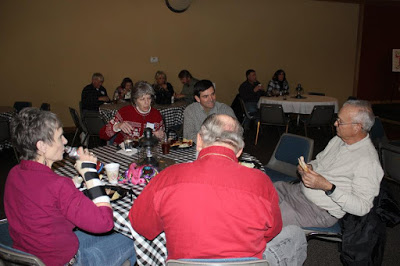 Gary and His Friends
6. By the way, be sure to invite special people! Include family, friends, co-workers, and other groups that the guest of honor is involved in.

The Lions Club members all showed up to support Gary.
7. During the party, let the retiree show off his work skills to his party guests.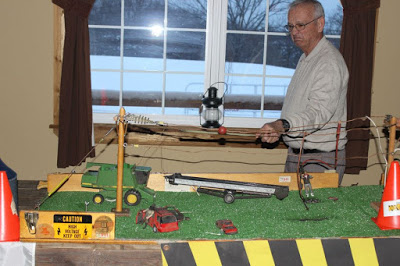 Gary shows off the safety demo to interested party goers.
8. Then pay tribute to the person of the night with a video and a display of memorabilia. Include things like pictures, uniforms, awards, and work ID's.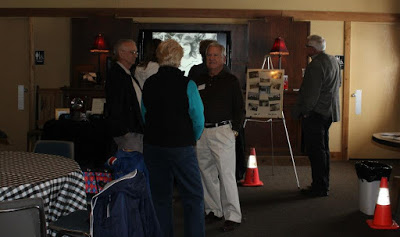 9. And don't forget to give a heartfelt speech. You can even ask the guest of honors closest co-workers and friends to each say a little something.

10. Then just enjoy the rest of the night as your guests chat away and have a great time!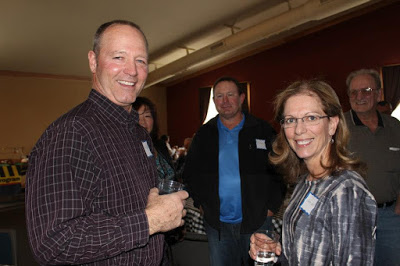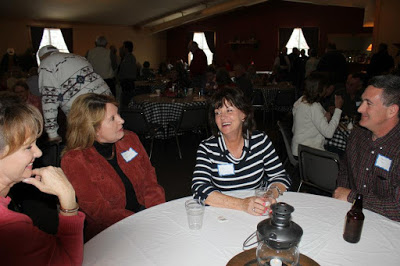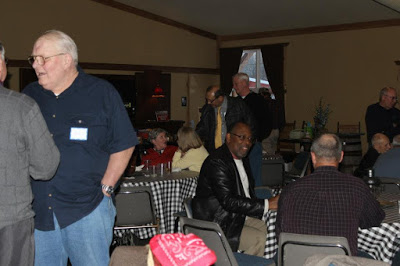 And who said women were bad about talking?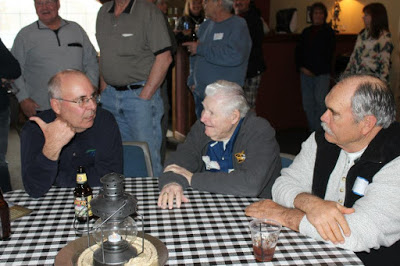 We're so glad that we got to celebrate this special day with the Hoffman's!
Once again, congratulations to Gary on his retirement!
Way to go, pardner!

Are you interested in throwing a special party for one of your loved ones at Faulkner's Ranch? Just
click here
for more information or give us a call at 816-761-1234.
Have a great day, ya'll!