Posted on July 30, 2012
Pony Camp was an amazing experience for everyone involved this summer and we couldn't do it without the amazing group of teachers that work with our campers each week.
So today we want to shine the spotlight on one very special teacher, Sarah Brines, our pony camp intern.
We asked Sarah what her five favorite thing were about Pony Camp.
Read below to see what she had to say.
Howdy y'all! This is Sarah, the college intern here at Faulkner's Ranch.
This is my third summer at the ranch and my second year of doing pony camp. We've had some fantastic sessions this summer. So I have done my best to come up with my five favorite things about pony camp. It was very hard to pick just five but here they are!
1. All the different kids I meet and get to work with.
Each week is a new mix of different personalities and attitudes and one of my favorite parts of every week is getting to meet and spend time with all the awesome campers. Every week is very different but always very fun.
I've gotten lots of awesome questions but my favorites are "Do you own a McDonalds?" "Do you smell like horses?" "Is there an old farmer around here?" and probably my all-time favorite occurred after showing the campers a picture of my fiancé, when one of the boys asked "Can I marry him?"
I love spending time thinking about pony camp and ways to make it better. I've been working on improvements for this year since we finished last year's camp and I just love planning new activities and reworking our normal activities to make the week better. Creating the multi-day Pony Camp Olympics (a series of fun ranch games) has been one of my favorite additions to pony camp, and the campers certainly do enjoy it.
I love not only seeing how much more comfortable the kids get with the ponies but also how they learn to get along with each other.
At the beginning of every week I tell my campers that my job is to make sure they have as much fun as possible. I love seeing the campers smiling and my absolute favorite part is when the kids tell me their favorite part of camp is everything.
Thanks for reading! And if you're interested in Pony Camp be sure to register. Next year's camp dates are available and filling up fast!
Like we said, we couldn't do it without our amazing teachers.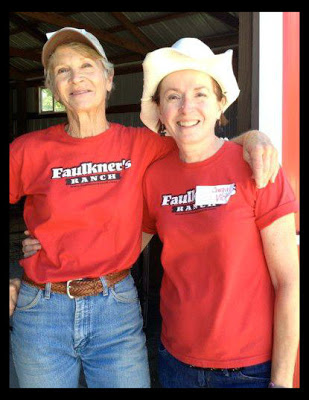 Pat and Vicki
You gals are the best of the best!
Have a great day ya'll!
PS – Congrats to Sarah on her engagement!
Remember to rock some cowgirl boots with your dress!