Posted on October 14, 2013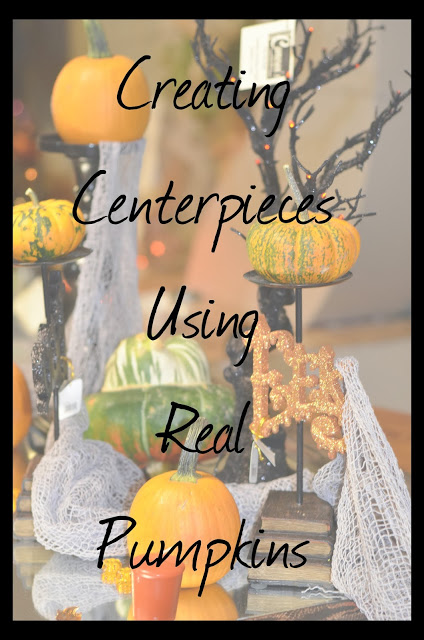 Recently, the lovely people of
Cameron's Home Furnishings
invited us to teach a class at their store on decorating with real pumpkins. First things first, if you have never been to their store in downtown Lee's Summit, go there now! Everything is absolutely beautiful – you could spend hours in there shopping your little heart away!
Anyway, back to the pumpkins! We spent an evening with almost 30 lovely ladies, sharing with them our favorite tips and tricks for using
real pumpkins
in centerpieces and displays.
Of course, we love our blog readers so much that we just had to share those secrets with you too. Enjoy!
First of all, remember this little poem when it comes to decorating centerpieces:
Base
Think Big
Fill, Line, or Bunch
Tweak to Add a Punch!
Let's break that down for ya!
Base – Always start out with a base to give yourself a boundaries. This can be a table runner, a piece of fabric, a tray, a basket, a mirror, a tree stump, anything! If you want something a bit more dramatic, choose something that elevates your centerpiece from the table. If you're looking for something convenient with little kids around, choose a tray or basket that you can easily move.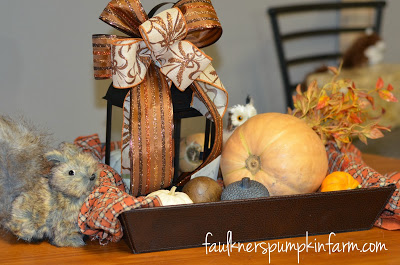 Think Big – Once you have your base, the next step is to add your biggest items. We usually recommend adding at least three large items that are slightly different heights to create a visual triangle. This is a great place to add your pumpkins or gourds. By the way, pie pumpkins (the middle sized) work great for this. Also, you don't want any of your items to be over 8″ tall if you are using this on a table. Some people recommend nothing over 1 foot, but that seems to block a lot of people's views across the table. Remember: You want them to be talking about the centerpiece, not over it!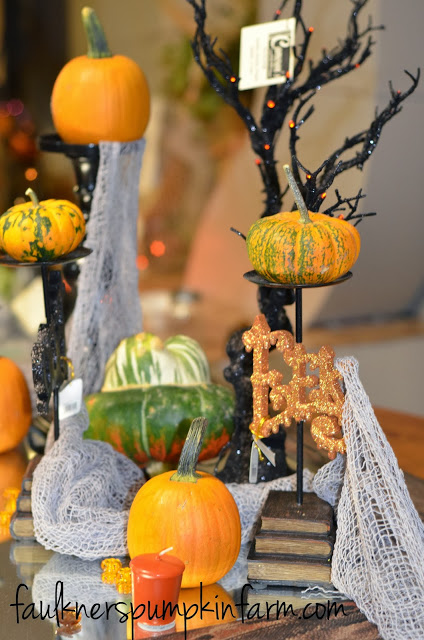 Fill, Line, or Bunch – Next is the fun part! This is where you start to make your centerpiece come to life. There are three main ways that you can put together a centerpiece. You can fill it (i.e. put a bunch of pumpkins and pine cones into a basket), you can line it (pumpkins and candles in a row), or you can bunch it (create a vignette using pumpkins and decorative items). If you are putting a display together and it just doesn't seem right, try switching up what you are using. We can usually guarantee that one of these three will work.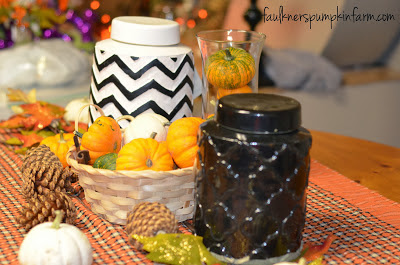 Tweak to Add a Punch – This is the step where you look back and see what is needed/missing. Maybe it is color, so you can throw in some bright mini pumpkins. Maybe it needs more texture, so you can add some leaves. Maybe you're missing height and can throw in a taller lantern. Play around with it and have fun! Remember: You can always add something and remove it. Sometimes you'll be surprised at how something unusual will make a great impact!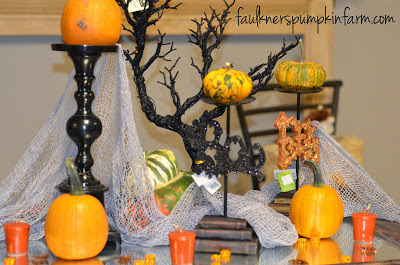 When It Comes to Shopping for Your Centerpiece…
First, know your style. One of the easiest ways to do this is to create a
Pinterest Board
and see what you pin the most.
Second, know how to pick the right pumpkins (ones that will last). You can find our
Pumpkin Picking Tips
here!
Third, when it comes to purchasing the other items, we recommend three things:
1. Choose items that you can use year-round. You'll see that in almost all of the images, several of the items can be used outside of Fall.
2. Invest in versatile items. Pine cones, leaves, scary cloth, etc. can all be used several different ways each fall season.
3. When choosing seasonal items, pick ones that you LOVE! You know that feeling when you open up your bin of decorations and get excited over one of your favorite pieces? That's what you want for almost everything you own! Right now,
Cameron's
has the most adorable Fall and Halloween pieces you've ever seen! It's the kind of stuff that you will love for years and years to come!
Trust us, if you follow these tips you'll be well on your way to having a centerpiece that is the talk of the table!
Have a great day, ya'll!
Posted on October 24, 2012
Halloween is just around the corner.
Light up your walkway for trick-or-treats with these awesome Pumpkin Lantern ideas!
1. Walkway Lantern Pumpkins
These cuties are easy to make! Just string a wire through small pie pumpkin jack-o-lanterns and hang them on iron shephard's hooks! Ta da! All done!
2. Classic Pumpkin Lantern
This little beauty is another brilliant creation from our amazing Lisa.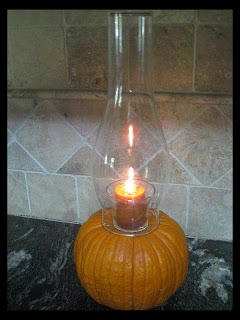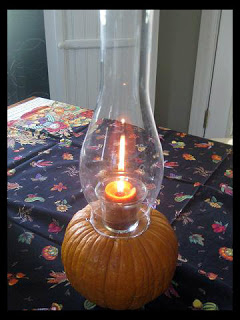 To make these, simple pick up a pie pumpkin. Break the stem off (if you need help, wedge a butterknife or screwdriver at the base of the stem)
After the stem is removed, set a glass candle votive on the top of the pumpkin. For extra safety precautions, we advise either gluing the votive to the top or securing it with some kind of heavy-duty tape.)
Light your candle and place a tall lantern over it.
There you have it! A beautiful piece of fall decor for your front porch or table centerpiece!
To make this quick and inexpensive project you'll need some miniature pumpkins, toothpicks, and tealights/candles.
Start by cutting your mini pumpkin in half. Using a spoon, scrape out all of the seeds and stringy insides. Then, insert toothpicks into the base of your pumpkin, roughly one inch apart. Place tealight/candle inside. Line up the top of your pumpkin with the toothpicks and press gently into place. Hold on to each toothpick (one at a time) and press the top half more firmly into them. Lastly, use a match to light the candle and revel in the glorious glow of your new carousel pumpkins!
4. Jack-O-Lantern Lantern
Start by hallowing out a small to medium sized pumpkin. Mark your face on the pumpkin before you begin to carve. You'll want a big section for the mouth since that is where the candle goes. Once you have created a face you like carve that bad boy out! Then, use either a macrame' plant holder or create your own holder using heavy duty string and metal rings to make a sling. Once you have your pumpkin hung up, place a candle inside, light, and enjoy!

We hope that you are enjoying these fun fall ideas!
Now be sure to stop on by
Faulkner's Pumpkin Farm
to pick up your little orange guys. We have them in all shapes and sizes waiting for you to take them home and give them that special creative treatment!
Have a great day ya'll!
Posted on October 23, 2012
Check out these adorable Mini Pumpercase Living Pumpkins that she created!
Come pick some up today to make the perfect fall centerpiece or mantle display!
Have a great day ya'll!
Posted on October 27, 2011
We love seeing the awesome ideas that our readers come up with. Seriously – you guys are too creative for your own good!
So of course, when you sent us some photos we just had to share!
Enjoy!!!
Lisa Gosselin: Upcycling An Old Planter
Lisa found this hanging flower pot at an estate sale and decided that it might be cute as fall decor! Check out what she did with it!
She took it from this…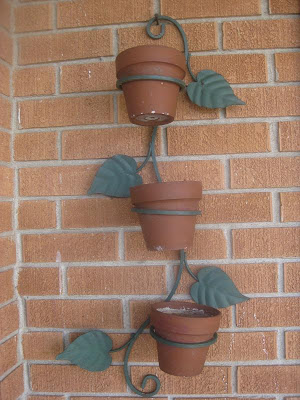 To this!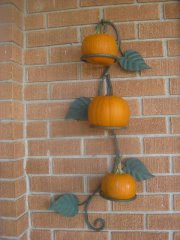 Isn't that adorable? Replacing the flower pots with some super cute pie pumpkins is just too cute!
We can't say that we are surprised by all of her creativity. After all, she is the one who designs and makes the Pumpkercase Pumpkins that you can purchase at
Faulkner's
.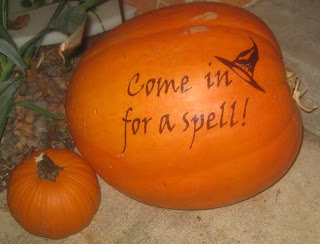 Sarah Brines: A Pony Pumpkin
Sarah is one of our "friendterns" who helps us out over the summer and we just adore her! She visited us this past weekend to pick her pumpkins and sent us this awesome photo of her carving!
Here it is in her display using all Faulkner's pumpkins:
Our ponies would be proud!
Paul Weikel: An Artsy Pumpkin Display
Paul made two trips out to Faulkner's to get all of his pumpkins and we can't believe all of the creative ideas he came up with!
Just look at his beautiful front yard display…
And check out this scary guy! Poor mini pumpkin…
Do you see the Frankenstein face???
Isn't this bat just the cutest?
Boo! Look at this clever combo!
He even snuck a Baby Pumpkinseed in there!
Thank you all for sharing your awesome ideas with us! It makes us happy to know that our pumpkins have found good homes!
Do you have some creative fall decor going on at your house?
Send us your pictures
! We would love to share them!
~ Your Friends at Faulkner's
PS – If you are getting ready to carve your pumpkins be sure that you check out
these helpful hints
on making them last!
Posted on October 20, 2011
There is nothing more heartbreaking than a pumpkin that shrivels before it's prime.
You've seen it before. That beautiful carving a week later is unrecognizable. Those once orange beauties are now moldy balls of mush.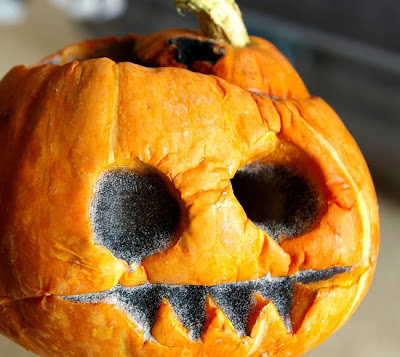 Something needs to be done to stop this tragedy from occurring.
That is why we hear at Faulkner's Ranch are providing this:
A Public Service Announcement
for
Preserving Your Pumpkins.


That's right, there are steps that you can take to prevent this unnecessary early fatality.
Below are some things that you most likely have sitting around the house that can help your pumpkin live a long and happy life.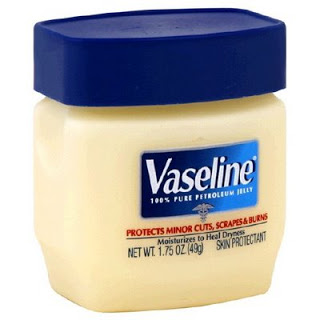 Rub Vaseline or petroleum jelly on the carved edges and inside of your pumpkins. This will keep moisture in and prevent premature shriveling.
Spray your pumpkin with water and cover it with plastic wrap and then store it in the refrigerator when it is not on display. This will also help to prevent early decomposition.
Soak or spray the pumpkin with water mixed with a little bit of bleach. This will help ward off mold and kill insects for longer preservation.
If you have a display of mini pumpkins, say in a bowl, pop in one of those silica packs that come in purses and other store bought items. This will keep the pumpkins fresher for a longer period of time. You can also put the silica packs in your carved pumpkins to prevent mold (Be sure to leave them in the pack though!)
If your pumpkin is showing signs of shriveling, soak it in water for several hours. The more shriveled the pumpkin, the longer it needs to soak. When the pumpkin is removed from the water, dry the inside with a towel as much as possible to impede mold growth. Dried-out pumpkins can be revived almost completely with this technique.
A Few Other Tips:
If your pumpkins are on display indoors, they need to be in a cool place. If your pumpkins are on display outdoors, they should be placed out of the heat and direct sunlight.
We hope that you get to enjoy your pumpkins for as long as possible with these helpful tips!
Do you have any pumpkin preservation tips that we didn't list? Please send them our way!
~ Your Friends at Faulkner's