Posted on July 1, 2013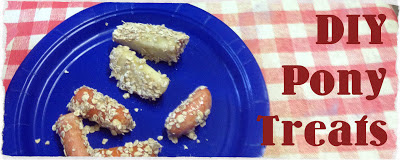 Here at the ranch we love to treat our ponies right!
That's one of the big reasons why we LOVE our
Pony Camps
during the summer. Our ponies get an extra special dose of love and attention from all of the campers. This year, they got really spoiled with some brand new tasty treats!
Our Pony Professor,
Vicki
Massey, shared her equine chef knowledge with the campers by teaching them how to make this fun recipe.
Follow the instructions below to make some of your own to share with your favorite pony!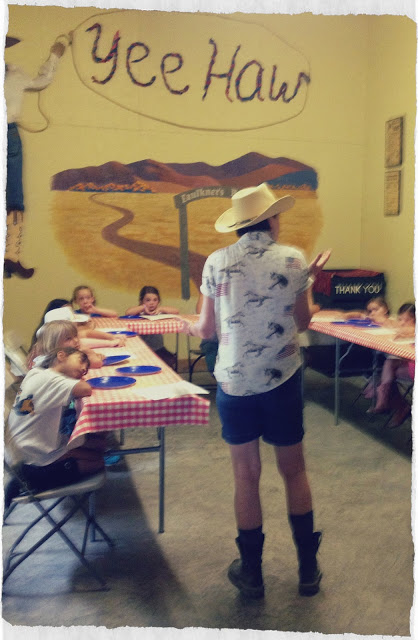 "Chef Vicki" teaching the campers the recipe.
Sticky Pony Pleasers
Ingredients:
instant quick-cook oatmeal
1. Line up 3 paper plates. Pour a generous puddle of corn syrup on the first plate. Spread a layer of dry instant oats in the second plate.
2. Dip an apple slice or carrot piece in the corn syrup, coating on all sides.
3. Dip the syrup coated apple or carrot into the oatmeal and roll until all sides are covered.
4. Place the coated apple slices/carrot pieces onto the third plate.
5. Lick your fingers (yup, there's a treat in it for you too!) and then continue coating the remaining apples and carrots.
6. Serve to your pony or horse in their feed bin or bucket. You'll be their favorite person with this delicious snack!
Our Campers hard at work!

What kind of snacks does your pony or horse like? Do you have any special recipes like this one?
Have a great day, ya'll!
~ Your Friends at Faulkner's


PS – Remember it's not too early to sign up for our 2014 Pony Camp I.
Click here to fill out your registration form!
Posted on June 25, 2013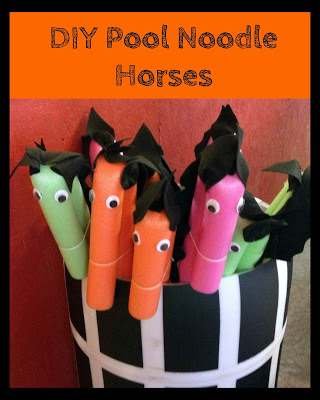 Well, they also had some super cute party favors!
And guess what they're made out of!
That's right – Pool Noodles!
They're just too neat! That's why we thought we'd share with you a little tutorial on how to make some Pool Noodle Horses of your own!
To make these you will need:
1 Pool Noodle
A Set of Googly Eyes
Rubber Band
Fabric (felt is recommended)
Yarn or String
Glue Gun
Instructions:
1. Fold the top portion of the pool noodle over to create the head of your horse and secure it with the rubber band.
2. Cut your yarn/string about an arms length and wrap it around the elastic a few times. Tie it and leave the ends hanging (those are the reins!).
3. Cut the felt fabric into triangles for your horse's mane. Using the glue gun, attach it to the horses head and allow it to cool.
4. Now it's time to add the googly eyes! Put a dab of glue on each eye and allow it to cool a moment before you press them onto the sides of the face.
5. Double check that everything is secure (esp. if you have little little ones playing with these) and enjoy!

Have a great day, ya'll!