Posted on June 25, 2013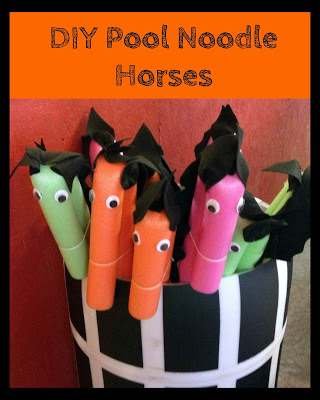 Well, they also had some super cute party favors!
And guess what they're made out of!
That's right – Pool Noodles!
They're just too neat! That's why we thought we'd share with you a little tutorial on how to make some Pool Noodle Horses of your own!
To make these you will need:
1 Pool Noodle
A Set of Googly Eyes
Rubber Band
Fabric (felt is recommended)
Yarn or String
Glue Gun
Instructions:
1. Fold the top portion of the pool noodle over to create the head of your horse and secure it with the rubber band.
2. Cut your yarn/string about an arms length and wrap it around the elastic a few times. Tie it and leave the ends hanging (those are the reins!).
3. Cut the felt fabric into triangles for your horse's mane. Using the glue gun, attach it to the horses head and allow it to cool.
4. Now it's time to add the googly eyes! Put a dab of glue on each eye and allow it to cool a moment before you press them onto the sides of the face.
5. Double check that everything is secure (esp. if you have little little ones playing with these) and enjoy!

Have a great day, ya'll!