Posted on December 24, 2012
Yup, meanwhile back at Faulkner's we were celebrating with our friends from Overland Park Dentistry for their second year in a row.
Let us tell ya folks – these people know how to party!
They arrived via a party bus which is not only a fun way to get the party started, but it is also a nice amenity if you are providing a host bar. Plus, you can set the tone for your event. Just bring along a pre-loaded iPod with your playlist and get ready to jam!
Want to know another great benefit to having a party bus at your event? After the part is over you can keep the party going! Groups always love it when after celebrating at the ranch they get to drive through Christmas in the Park or head on downtown to see the Plaza Lights.
This group had a few other fun party add-ons like Saphira the Fortune teller and a caricature artist. Fortune tellers can be a lot of fun at company parties and caricature artists provide a nice party favor to take home. The more add-ons, the merrier!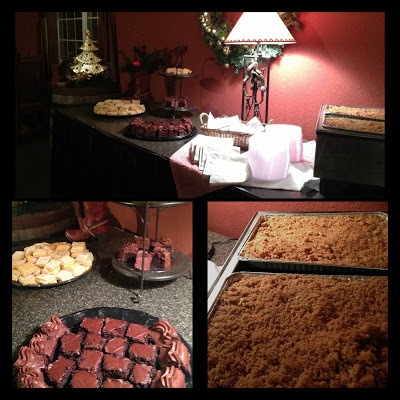 Beautiful dessert table setup, complete with brownies and fresh apple crisp.
Overland Park Dentistry wasn't our only party at Faulkner's Ranch last weekend though. On Saturday we hosted Pinnacle Career Institute faculty and staff. This was a great party complete with a mechanical bull, roller roper, and a Ranch J entertainer.
The Ranch J entertainer was a great addition since they taught the group how to do some fun dances and even led a game of Build-A-Santa! Have you ever played Build-A-Santa? It's super fun! First, you call up two volunteers. Then those volunteers must go out into the crowd and find three more volunteers to create their team. Each team designates a "Santa" who puts on a red union suit (aka long-john underwear) and a Santa hat. The team is then given three minutes to blow up as many small balloons as possible and stuff their Santa. When the time is up the Ranch J counts the balloons as they pop them. The team with the most balloons wins!
We also play another version of this called Build-A-Snowman using toilet paper. Team members are encouraged to "borrow" items from the audience to decorate their snowmen like hats, scarves, gloves, etc. When time is up, the snowmen have a dance off! The winning snowman is chosen based on audience applause.
Pinnacle Career Institute definitely kept their guests entertained with all of these activities. Plus, they gave away raffle prizes every 15 minutes throughout the party.
We weren't done partying for the weekend just yet though! On Sunday we celebrated with Anthony Plumbing Heating and Cooling! This year they added some super fun flair to their party with some special ranch entertainment. The kicked off the party by having Too Tall Terry outside to welcome everyone as they arrived.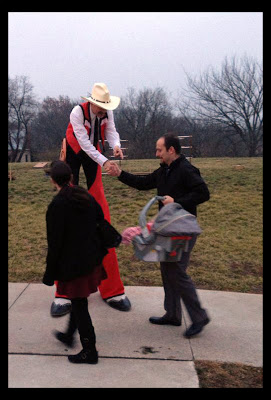 Too Tall greets the guests as they arrive.
Once the guests were settled in, Sheriff T. Texas Terry dazzled the crowd with his 30-minute interactive cowboy show. It has everything from rope spinning, to gun twirling, to showing off his bullwhip cracking skills.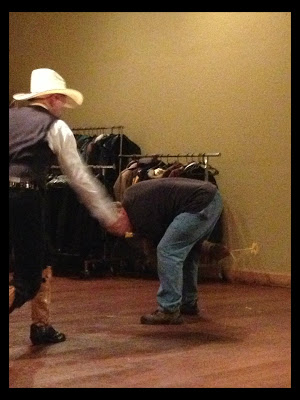 Sheriff Terry chose a trail boss volunteer to risk his life while he cracks a delicate little daisy out of his hand.
A favorite part of his show is always when he calls up four volunteers to become the "Ding-A-Lings," his amazing cowbell choir!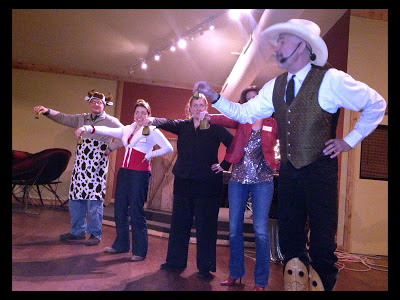 The Ding-a-Lings
Overall, it was an AMAZING weekend filled with lots of fun! We can't wait to celebrate with these groups again!

Are you interested in having your company's holiday party at the ranch?
It's not too late to book one!
Post-holiday holiday parties are a great way to kick off the fourth quarter. Plus, you're likely to have a great attendance since most people aren't as busy as they are during the holiday season.
Just give us a call at 816-761-1234 to find out more information on our January party packages or visit
our website
.
Until then, Merry Christmas!