Posted on December 19, 2013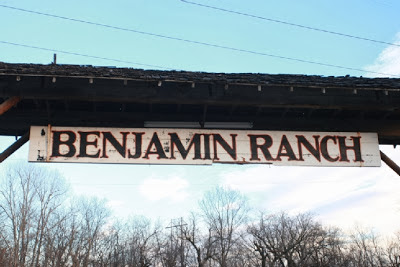 Earlier this month we asked our ranch team what some of their favorite memories were of The Benjamin Ranch.
Here's what they had to say:
Coordinating 5 events and turning the facilities over for the next day. Whew! The Harley "Hog" Rodeo and Dance was exciting. Nothing but the sound and sight of Harley's on 435 highway for miles and miles! The Fourth of July Rodeo with Benny Benjamin at the reigns of a 6 horse hitch galloping at full speed in a crazy eight pattern!
-Marilyn Faulkner
I absolutely loved the rodeo. It was such a colorful and festive time. And now every time I hear Lee Greenwood's "Proud to be an American" it takes me back to watching the fireworks in the rodeo arena. I have also enjoyed celebrating so many major milestones at Benjamin to include my Sweet 16, college graduation party, J-me's college graduation party, our couples wedding shower, and numerous birthday parties for Glory and Miles. Benjamin Ranch is also the place where I started my event planning career and learned so much!
– Christine Loneman
I have many Benjamin Ranch Memories. For one, my husbands and I had our wedding reception there. We arrived in the Benjamin Ranch Stagecoach. The entire reception was awesome.
Also, I remember working 3-4 Christmas parties happening at once there in different barns (the barns were decorated beautifully). The 4th of July rodeos and the Haunted Benjamin Ranch will never be forgotten either. I am blessed that Benjamin Ranch was a big part of my life.
– Lisa Faulkner-Gosselin
When I think of my childhood, I immediately think of Benjamin Ranch. It feels like I practically grew up there. I remember how exciting it was every summer when the rodeo arena would start to buzz around the Fourth of July. Just hearing Garth Brook's "Rodeo" sends me back to it. I remember riding in the Grand Entry and feeling like a rockstar and then line dancing the night away to the honky tonk bands following the rodeo. Benjamin Ranch was also the place where I learned how to horseback ride, celebrated countless birthdays, sang the Star Spangled Banner for the first time, and celebrated my college graduation. Then, I got the chance of a lifetime when I got to be the creative director of The Haunted Benjamin Ranch and bring the old stables back to life (or should I say, back to dead?). The Benjamin Ranch has been a part of my life for as long as I can remember. I am so sad to see it go, but I am exciting for the memories that we will continue to make at Faulkner's.
– Kelly Jo Jordan
A lot of things I remember must stay at the ranch, lol!
– Michael Foley
That's right, Foley! What happens at the ranch, stays at the ranch! 😉
Of course, we love what Bob Faulkner had to say about
his favorite memories
when Fox 4 News Kansas City joined him the morning of the auction. For the full story,
click here
.

Now, we wanna know:
What are you favorite memories of The Benjamin Ranch?
Have a great day, ya'll!