Remembering Marilyn Jo (Faulkner) Nauman
Posted on April 26, 2013
This week has been one full of sadness for the Faulkner Family.
As some of you may already know, Marilyn Jo Nauman, the dear sister of Bob, Dick, and Judy passed away on Monday from cancer and other complications.
Marilyn Jo (Faulkner) Nauman, 76, passed away April 22, 2013 after a short illness. Marilyn was born in Kansas City, Mo. She graduated from Witchita State University. For more than 30 years, she worked as a tax preparer at H&R Block Premium until her retirement in 2012. Marilyn was predeceased by her husband of 50 years, E. Bruce Nauman. Survivors include her daughter, Cindy (Paul) Baglow of Niskayuna; her son, J. Michael (Rene) Nauman of Little Rock, Ark., as well as six grandchildren, Melissa (Mark) Arsenault of Pottstown, Pa., Brandon Baglow, Laura Baglow and David "Buddy" Baglow of Niskayuna, and Edward Alexander and Rachel "LaLa" Nauman of Little Rock and one great-grandson, Anthony Forlano of Niskayuna. She is also survived by one sister, Judy (Woody) Blake and two brothers, Richard Faulkner and Robert (Marilyn) Faulkner, all of Kansas City. Calling hours will be from 5:30 p.m. to 8:30 p.m. on Friday, April 26 at the Daly Funeral Home, 242 McClellan St., Schenectady. Funeral services will be Saturday morning at 10:30 at the Daly Funeral Home. Burial will immediately follow in Parkview Cemetery in Schenectady. Memorial contributions may be made to the City Mission of Schenectady, 425 Hamilton St., Schenectady, NY 12305.
But Marilyn Jo was so much more than what her obituary says.
In addition to being a beloved wife, mother, grandmother, sister, aunt, and friend, she was so many amazing things that made her the incredible woman that she was.
The Faulkner Siblings (from left to right: Dick, Judy, Marilyn, and Bob.)

She had a passion for traveling that ran deep in her veins. Through her life her journeys led her to all corners of the earth. She had countless stories from the experiences she'd had all over the world.
She loved dollhouses and had collected several beautiful ones in her home. Whenever she would visit her family in Kansas City, she would always take them to the local dollhouse museum.
She had such a special relationship with her granddaughter, Melissa. She was so incredibly proud of her and all that she had accomplished.
Marilyn Jo with her daughter, Cindy, and granddaughter, Melissa.
Marilyn Jo seeing Melissa in her wedding dress for the first time.

She spent many a night on the phone with her sister, Judy, talking about anything and everything. Many times they would look at the clock only to realize that they had been talking for hours and it was well past midnight.
She was also incredibly fond of her dog, Manny, a gentle giant who kept her company in her New York home.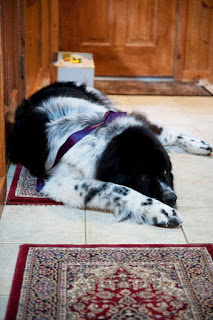 She was cultured and refined, extremely smart and well-read.
Beautiful inside and out.
A compassionate and accomplished woman who lived a full life filled with lots of love and family.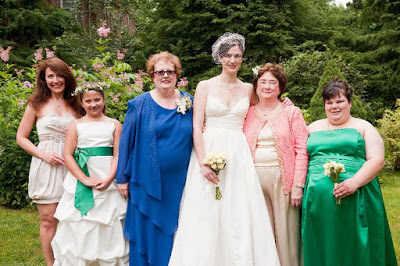 While we feel that she was taken to soon, we find comfort in knowing that she is in a better place, with GrandMary and Granddaddy and her loving husband, Bruce.
We will miss you, Marilyn Jo!