Pumpkin Beauty Tips + A Pumpkin Spice Sugar Body Scrub
Posted on October 16, 2013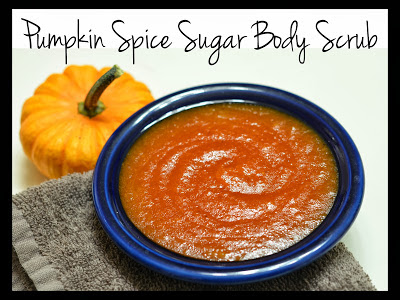 There is no argument that pumpkin is a yummy treat. Well, maybe there is an argument but we don't want to hear it. Did you know though that pumpkin isn't only delicious, but it is also great for your health and beauty? That's right! This gourd can make you gorgeous!
Here are a few fun facts about pumpkin:
Pumpkins are rich in nutrients and antioxidants that can help your skin attain a healthy glow.
Do you have sensitive skin? Are you prone to blemishes? Then add pumpkin seeds to your diet! They're packed with zinc, which has anti-inflammatory and antibacterial properties that may help calm irritated skin from the inside out.
Pumpkin enzymes can soothe and protect your skin.
Pumpkin are chocked-full of vitamin C, vitamin E, vitamin A, which are awesome for your skin.
Want to cash in on the perks of pumpkins? Then follow the simple recipe below to make your own Pumpkin Body Scrub that will leave your skin feeling SO SOFT (plus, it smells SUPER yummy!).
Pumpkin Spice Sugar Body Scrub
INGREDIENTS:
1 ½ Cup of Sugar
¼ Cup of Canned Pumpkin (organic is preferred)
1 Tablespoon of Almond Oil or Olive Oil
1 Tablespoon of Vegetable Glycerin (optional)
A Light Sprinkle of Pumpkin Pie Spice (optional)


INSTRUCTIONS:
To make this wonderful scrub, simply mix all of the ingredients together and store in an airtight container. Once a week, rub this scrub all over your body in a circular motion while you're in the shower and rinse with warm water. In order for the benefits to last, make sure you apply a moisturizer after you have rinsed off each scrub. This will not only enhance the benefits of each treatment but will also prolong the effects.

Have a great day, ya'll!