Ponies and Pancakes Recap
Posted on December 3, 2012
Remember when we told you about our last
Well, we are thrilled to say that it was a huge success!
Between the raffle ticket sales and the wonderful turnout at the Ponies and Pancakes event, the Herschberger family raised $11,000 to put towards getting Harley his amazing companion!!!
Isn't that awesome?!?!
Here is what Rita Olson-Stawicki, a long-time pardner of the ranch and co-worker/friend of Harley's dad had to say about the special day:
"A very special thank you to Bob Faulkner, Marilyn Faulkner, Christy Faulkner-Loneman, Mike Foley, Mike Gosselin, Zack Gosselin and the entire staff at the Faulkner Ranch. The fundraiser was a great success due to all of your hard work and dedication. This would NOT had happen if it wasn't for all of you. An 8 year old little boy's life is going to be greatly enhanced because of all that you did. Thank you and be safe."
Once again, thank you to everyone who came out and helped make a difference!
Stay tuned for our next Ponies and Pancakes event and in the meantime, enjoy some of our favorite pictures from the day!
Bob and Rita
Harley and his family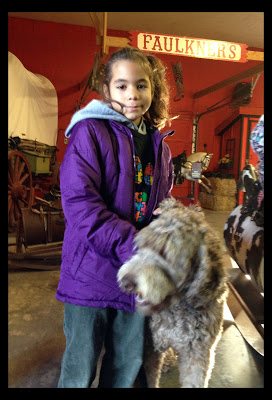 The First Kansas City All Paws Dog
Harley's Mom meeting with another mom of a kid with a dog
Have a great day ya'll!