Ponies and Pancakes: A Chance to Give Back
Posted on November 14, 2012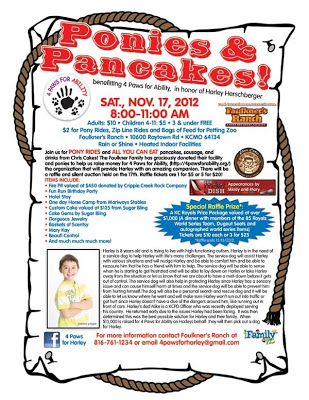 Join us this Saturday from 8am to 11am
for another Ponies and Pancakes
to help raise money for 4 Paws for Ability.
4 Paws for Ability is the wonderful organization that will provide Harley Herschberger, an awesome little 8 year old boy who is trying to live with high functioning autism, with an amazing companion. By providing Harley with a service dog he will be able to handle so many of life's challenges. From assisting him in different situations to comforting him and protecting him from harm, Harley's new service dog will be a life-changing best friend.

So join us for a fun morning and help make a huge difference in this little boy's life!
We'll have pony rides and ALL YOU CAN EAT pancakes, sausage, and drinks from Chris Cakes!
Ticket Prices:
Adults and Children 12 and older: $10
Children: Ages 4 to 11 $5
Children: 3 and under FREE
*Pony Rides, Zip Line, Bags of Feed for Animals at Petting Zoo $2.00
Tickets are available at the door the day of event or can be purchased in advance by emailing michelle@ifamilykc.com
(just put "Tickets 4 Harley" in subject line.)
There will also be a raffle with some totally awesome prizes! Tickets for the raffle are 1 for $5 or 5 for $20.
Some of the raffle prizes include:
A Fire Pit donated by Cripple Creek Rock Co ($450 value)
*(There is a 2 ticket minimum to enter for firepit)
Fun Run Birthday Party
One night stay at the Holiday Inn and Breakfast for 4
One Day Horse Camp from Mariways Stable
Beautiful Jewelry
Mary Kay, BeautiControl, Silpada, and Scentsy Products
Plus too many gift baskets to mention!!!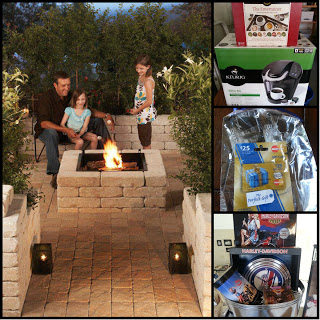 There will also be a KC ROYALS PRIZE PACKAGE!!!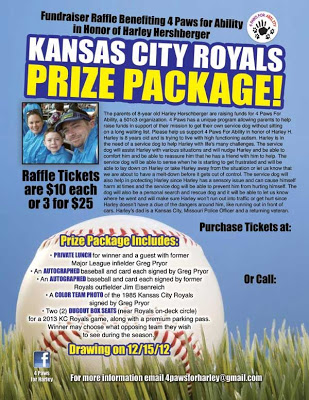 The prize package includes autographed World Series Items, a private dinner with a member of the 85 World Series Team, and 2 Dugout Seats to a game of your choice with a parking pass!
Tickets for Royals Package are 1 for $10 or 3 for $25. Tickets will be available on 11/17 or by emailing 4PawsforHarley@gmail.com. The drawing for this specific prize will be held on December 15th.

We hope that you can make it to this fun event that helps out an amazing cause!
For more information please contact us here at Faulkner's Ranch at 816-761-1234 or e-mail 4pawsforharley@gmail.com.
To see some of our previous Ponies and Pancakes click the links below:
Have a great day ya'll and we hope to see you at the ranch this Saturday!