Picnic Spotlight: Guest Appreciation
Posted on July 2, 2012
One of the favorite parts of our job here at the ranch is all of the awesome people that we get to meet.
Recently, we had the privilege of hosting the company picnic for a really awesome group.
The company was called
Shick Company
and they make parts for assembly lines for the milling industry.
What we loved most about their event was how personal they made it. They also did a fabulous job of showing just how much they appreciate their employees.
Shick Company didn't just have a picnic, they had what they called "The Shicknic."
How fun is that?
By giving the event it's own unique name instead of just "the company picnic" it made the event way more personal. In fact, their employees have come to call it by that. Giving your event its own name also helps to create buzz around the office which means that even more people will attend!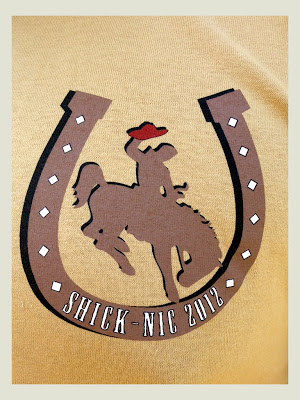 They even took the theme to the next level and enlisted one of their associates to design the logo and t-shirt for The Shicknic. Didn't they do a fantastic job?
By utilizing ore people to help prepare for the picnic will also give them a bigger buy in or an even greater reason to attend.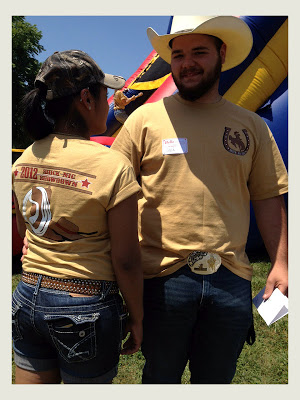 Loving the belt buckle!
This group had a lot of prizes to hand out.
For one of their prizes, they designed a trophy out of the parts that they make. They said that it was actually pretty simple to make. They just stained the board, attached the parts, and put an engraved plaque on it.
Each year at the annual Shicknic they will have department showdowns or challenges and the winning department gets the plaque each year.
Simple and fun ideas like this help to build department pride and create cohesiveness.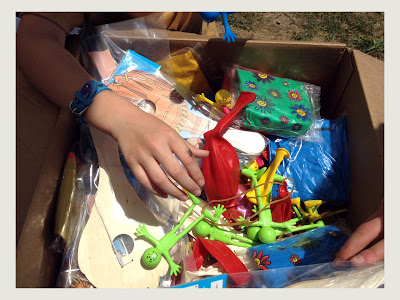 Everyone was a winner at this event. For example, the box of toys above from
Oriental Trading Company
and
US Toy
was given to the DJ to hand out to children as they were eliminated from games like musical chairs and limbo.
Toys like water guns, frisbees, bubbles, and balls can be used at the picnic for even more added fun.

Speaking of prizes, vendors are a great resource for some awesome prizes. This company had some generous vendors that donated some awesome prizes.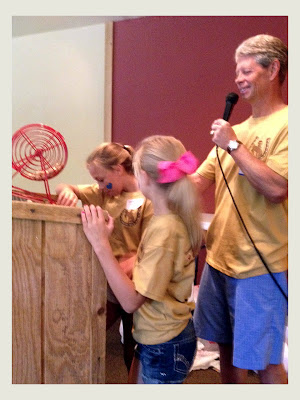 Bingo is a great way to give out prizes and they gave out some really cool ones.
At The Shicknik the owner of the company was the Bingo caller – nice touch!
It also helps that they had two adorable assistant to help hand out prizes.

Check out the door prizes above. Talk about an incentive to come join the fun!
Did you know that the best time to give out door prizes is at the end of the picnic because it gives the attendees an incentive to stay?

Shick also did a neat thing with their door prizes. On the agenda they scheduled a one-hour time period that associates could come to the Ranch J/table and draw a number. That number corresponds with an envelope and in the envelope was a gift card for places like Quick Trip, Best Buy, Walmart, etc

To learn more about hosting a company picnic at Faulkner's Ranch please visit our website.
To find out more useful tips on throwing an awesome company picnic CLICK HERE.
Hope to see you out at the Ranch soon!
~ Your Friends at Faulkner's