5 Reasons Why January is the New December for Holiday Parties
Posted on December 7, 2016
If you're like most people around this time of year, you've probably noticed that your December schedule is already becoming quite full.  Between holiday parties, school concerts, shopping for presents, baking, traveling, and more, it can be hard to find a moment of free time during this busy season.  That is why many employers are taking part in the popular trend of having their company holiday party AFTER the holidays!
It's no wonder why they are choosing to do this either.
Here are 5 reasons why January is becoming the new December!
1.  It is more convenient for the employees.
It is so much easier to find a free weekend in January than December.  Because of this, your employees will appreciate not have to choose between events or other commitments.  Plus, it is easier for employees to find babysitters after the busy holiday season when they are in high demand.  All of this combined means a bigger turnout!
2.  There are more dates to choose from.
There are only so many weekends in December before Christmas.  January opens up a whole new slew of choices that don't conflict with any holidays or travel times.
3.  It boosts company morale!
After the bustle of the holidays, January can be a bit of a letdown.  The festivities are done, the gifts are unwrapped, the hustle and bustle has come to a stop – now it's back to the grindstone.  Thankfully, a January event helps to add some excitement and fun to the schedule.  January events allow your guests to laugh about the holiday stress without being in the middle of it.  Everyone can trade stories and talk about their Christmas break without being worried about everything remaining on their to-do list.
4.  January parties can easily be mixed with team-building activities.
Bouncing off of #4, January parties can be used to get the team motivated again.  Incorporate some fun team-building activities into your event and encourage guests to participate with prizes. These team building activities, plus a chance to socialize outside of the office is a great way for employees to better their relationship with each other.
5. It's a Great Way to Kick Off A New Quarter

Consider it a pep-rally of sorts!  It may be gloomy and cold outside, but January events provide a fun night of motivation to get your team excited about what is in store and enthusiastic about goals for the new year!  Plus, you can celebrate all of your accomplishments from the past year!
BONUS –  It's cheaper!
Many discounts are available in January.  Plus, it gives you as the employer a chance to look at your year-end books to better decide how much you are able to budget.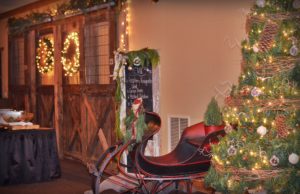 It's not too late to celebrate!  January holiday parties are a great way to show your employees that you appreciate all of their hard work and dedication.  Give them a night of food, drinks, and fun to reward them for all of their hard work!
Visit our website to find out more details on our super fun holiday party packages or give us a call today to book your exciting January event!