DIY Pumpkin Lanterns
Posted on October 24, 2012
Halloween is just around the corner.
Light up your walkway for trick-or-treats with these awesome Pumpkin Lantern ideas!
1. Walkway Lantern Pumpkins
These cuties are easy to make! Just string a wire through small pie pumpkin jack-o-lanterns and hang them on iron shephard's hooks! Ta da! All done!
2. Classic Pumpkin Lantern
This little beauty is another brilliant creation from our amazing Lisa.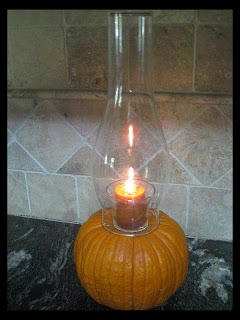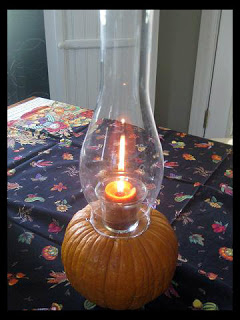 To make these, simple pick up a pie pumpkin. Break the stem off (if you need help, wedge a butterknife or screwdriver at the base of the stem)
After the stem is removed, set a glass candle votive on the top of the pumpkin. For extra safety precautions, we advise either gluing the votive to the top or securing it with some kind of heavy-duty tape.)
Light your candle and place a tall lantern over it.
There you have it! A beautiful piece of fall decor for your front porch or table centerpiece!
To make this quick and inexpensive project you'll need some miniature pumpkins, toothpicks, and tealights/candles.
Start by cutting your mini pumpkin in half. Using a spoon, scrape out all of the seeds and stringy insides. Then, insert toothpicks into the base of your pumpkin, roughly one inch apart. Place tealight/candle inside. Line up the top of your pumpkin with the toothpicks and press gently into place. Hold on to each toothpick (one at a time) and press the top half more firmly into them. Lastly, use a match to light the candle and revel in the glorious glow of your new carousel pumpkins!
4. Jack-O-Lantern Lantern
Start by hallowing out a small to medium sized pumpkin. Mark your face on the pumpkin before you begin to carve. You'll want a big section for the mouth since that is where the candle goes. Once you have created a face you like carve that bad boy out! Then, use either a macrame' plant holder or create your own holder using heavy duty string and metal rings to make a sling. Once you have your pumpkin hung up, place a candle inside, light, and enjoy!

We hope that you are enjoying these fun fall ideas!
Now be sure to stop on by
Faulkner's Pumpkin Farm
to pick up your little orange guys. We have them in all shapes and sizes waiting for you to take them home and give them that special creative treatment!
Have a great day ya'll!