Posted on July 10, 2013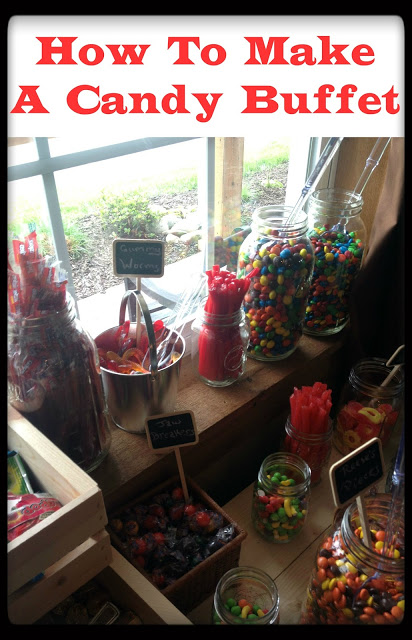 One of our favorite trends that we are seeing in
weddings
is having a candy buffet or candy bar.
After all, love is sweet! So why not share that sweetness with your guests!
There are a few things that we really love about this idea:
1. The candy acts as a party favor for your guests. We can't think of a better way to say "thank you" than a bag of chocolates and other yummy goodies!
2. A candy buffet can also double as your dessert table.
3. It adds a colorful focus point.
4. It is a great addition to your wedding reception, even if you are on a tight budget.
5. Candy buffets are easy to put together. Just see below!
To Make Your Own Candy Buffet You Will Need:
– An assortment of containers: Glass containers or clear plastic containers work best because you can see the candy. Choose a variety of different shapes and sizes for visual appeal. You will also want to make sure that the containers are wide enough for guests to scoop out the candy easily.
– Labels: It might not be obvious what each candy is so help your party guests out by labeling each container. This is also good in case any of your guests have food allergies.
– Ribbons: Tie ribbons in your wedding colors around the containers for a pretty touch.
– Treat Bags or Boxes: Gotta have something to take that candy home in?
– Scoops: This is especially important to have for candy that isn't wrapped.
– Candy: LOTS and LOTS of candy! If you are able to hit up a post-holiday sale, that is a great time to stock up. If not, places like Sam's Club and Costco are awesome solutions for buying in bulk. For inspiration on different types of candy to use, click here.
We just loved the candy buffet from the Roots Wedding this past month. See how they used different kinds of containers? They had everything from jars to baskets to pails to crates. It made for a really cool setup! Then they labeled each candy with chalkboard signs – so cute and rustic! Needless to say, the guests were very happy about this part of the reception! There's nothing like a sweet treat to give you just a bit more energy to keep dancing the night away!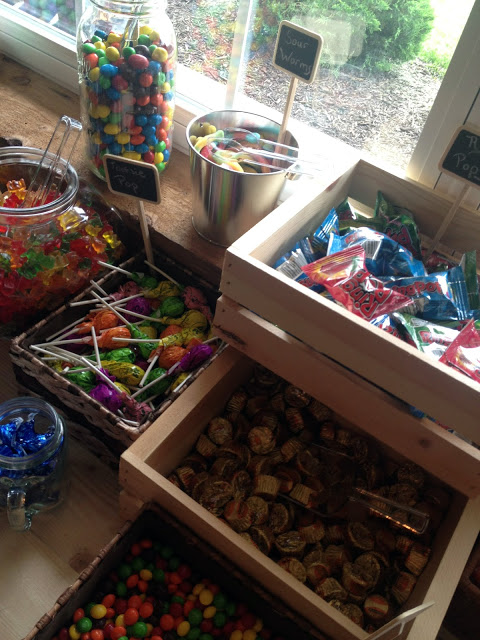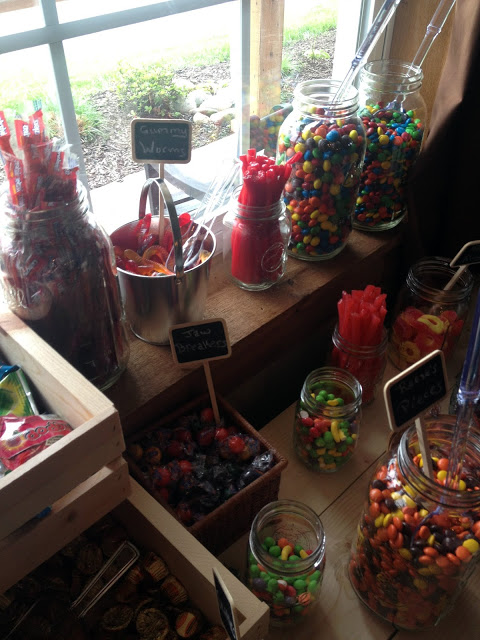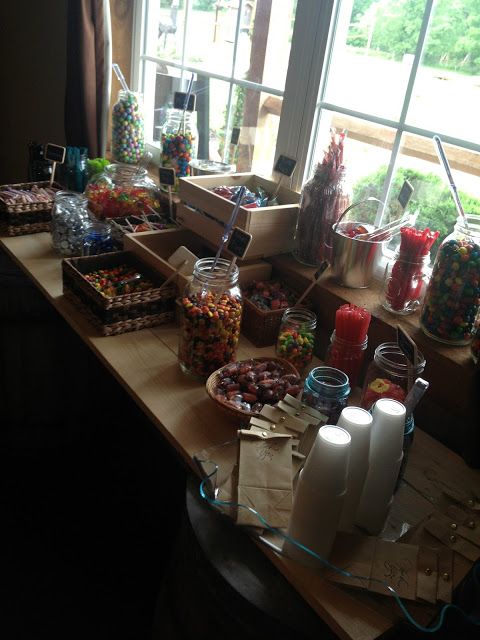 Now we want to know…what kind of candy would you want to have in your candy buffet???
Newly engaged? Be sure to check out our
wedding page
for how we can help make your dream day come true!
Have a great day, ya'll!