Posted on August 30, 2012
Have you heard about the latest trend of gender reveal parties?
A gender reveal party is a modern way to savor the surprise of finding out if your baby is going to be a little cowboy or cowgirl and share that moment with your loved ones.
We just love the idea!
So of course, when Kelly Jo, our niece/cousin/social media director asked us if her and her husband Ben could host their party at the
Ranch
we said yes!
Check out all of the details of this fun event below!
Word From the Herd: The Big Reveal
by Kelly Jo Jordan
My family is in the business of throwing parties.
So, of course, when the opportunity arises to get everyone together and celebrate, I'm on it.
We knew from the moment we found out that we were having a baby that we were going to find out if we were having a boy or girl. I have love the trend of gender reveal parties and the idea of sharing that happy moment with our family was something I knew I couldn't pass up.
So, last Thursday, around twenty-five of our family members gathered at
Faulkner's Ranch
for the big reveal.
Here is the invite that I sent out…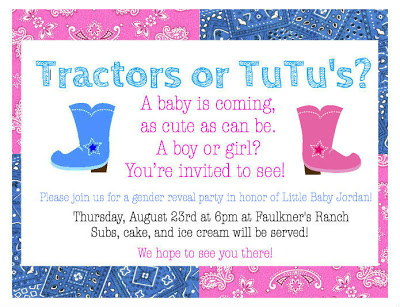 Of course, since it was at the Ranch, I just had to go with a western theme!
Lots of bandanas and plaids (pink and blue of course!)…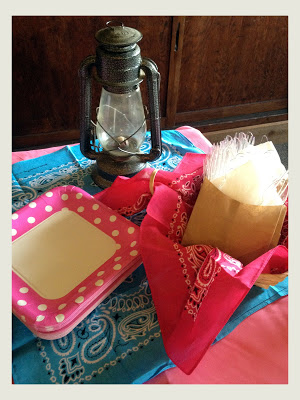 I found how to make these little
cutlery packets
on
Pinterest
which made for a nice one-stop-shop for everyone's cutlery and napkin needs…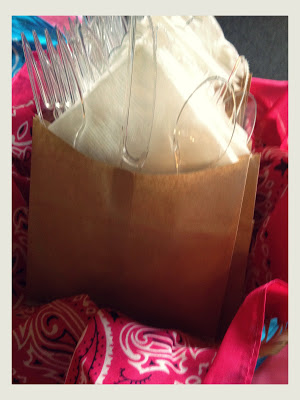 Since we wanted everyone to be able to sit, talk, and enjoy a tasty meal before we cut the cake, we served deli subs, veggies, and chips.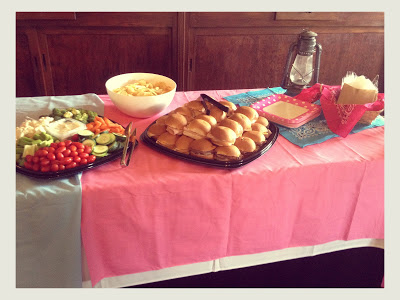 We carried on with the pink and blue theme in the drinks too.
We served Jones Soda and Pink Lemonade (not pictured, but very cute, trust me)…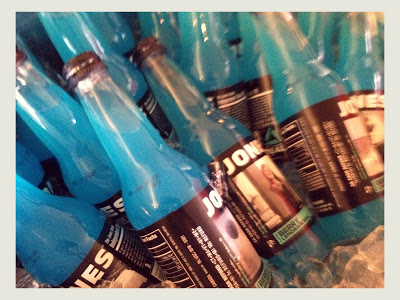 We also had some special little details of the VIP (or VIB I guess – Very Important Baby)…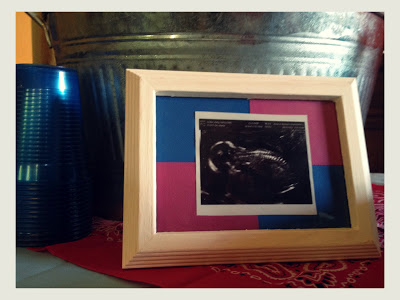 Little Baby Jordan's First Picture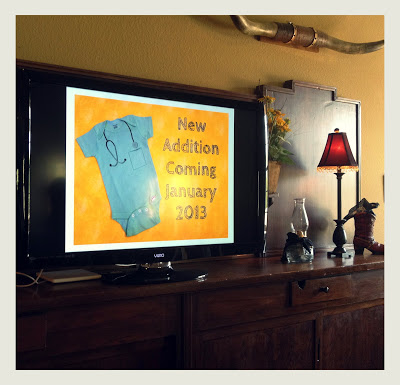 Our baby announcement that we shared on Facebook
And of course, we had a voting station…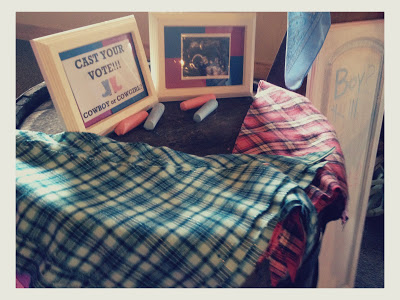 We tallied the votes on the chalkboard, which I made out of an old cabinet door that I got from Habitat ReStore for $2 and some chalkboard paint.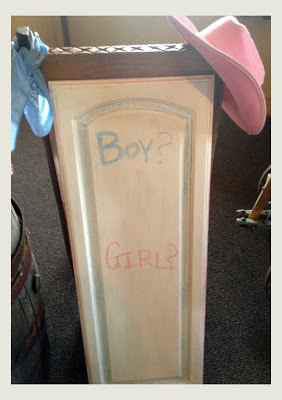 After everyone voted, they could show off their team colors (pink or blue) with a bandana.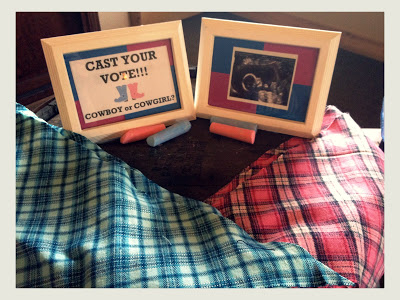 I was thinking that no one would want to wear the bandanas, but boy was I wrong! We actually ran out of the blue ones!
Here was the final tally…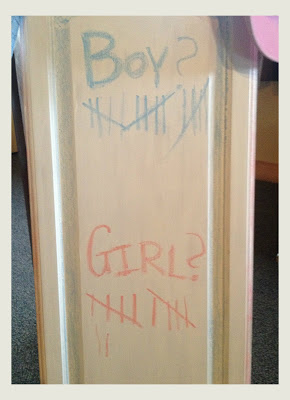 Boy: 15
Girl: 12
Finally it was time for the big moment. We had ordered a cake from Dillons, believe it or not. The young guy I gave the envelope to had never heard of a gender reveal cake but they did an awesome job with it!
And now, *drumroll please*
Tricked ya in the end there with the name reveal didn't we? ;o)
Anyway, we were TOTALLY shocked! We were both certain that it was a boy. I think it actually took the whole night for it to sink in with Ben. He just kept looking at me saying, "We're having a little girl" as if he didn't believe it.
If you don't believe me, just look at how we were oh-so-confidently sporting those blue bandanas…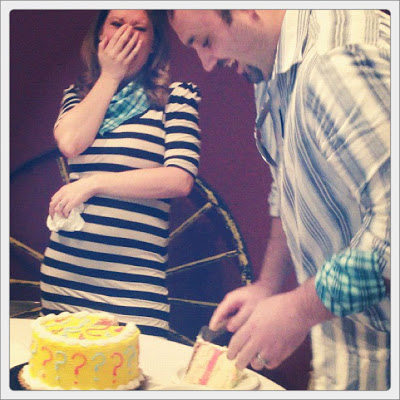 Speaking of those blue bandanas, we were cracking up because after the cake was cut we kept finding blue bandanas on the tables and the floor. No one wanted to support the losing team's colors.
However, Team Girl couldn't stop gloating that they were right and kept their bandanas on the rest of the night…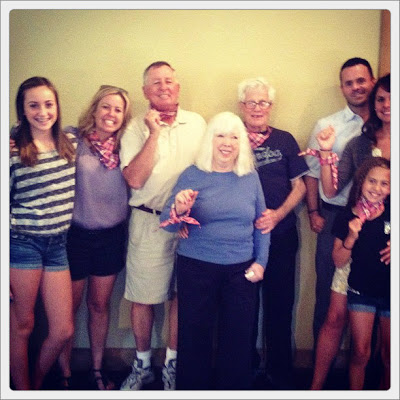 Look at Uncle Bob and Christine just showing off!
Anyway, it truly was a fantastic night! I just kept thinking about how this little baby, who isn't even here yet, is already so so loved.
Thanks Uncle Bob and Christine for letting us have the big reveal at our
favorite place!
Over and Out,
Kelly Jo