Bad Weather Blues: How to Avoid a Wedding Disaster
Posted on June 27, 2016
Some say that rain is good luck on your wedding day, but let's get real! No one wants or expects rain on their wedding day, and unfortunately, the weather is out of our control. However, one thing that you can control is having a backup plan so that your wedding day is the day of your dreams, no matter what the weather. Here are some tips for how to be prepared for the possibility of bad weather on your special day.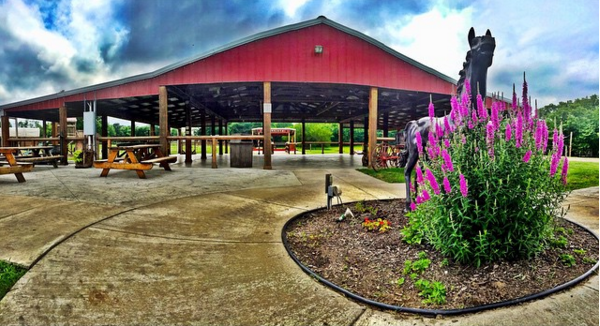 Most Importantly: Choose a Venue with Options
Flexibility at your venue is key. Choosing a venue with an indoor and an outdoor space will allow you to put bad weather worries on the back burner and focus on more important things.
Faulkner's Ranch is a great choice for your wedding because we offer both beautiful indoor and outdoor spaces. We are always checking the weather and if wee see a storm is coming, we can postpone your ceremony and entertain your guests inside with cocktails and appetizers while they wait out the bad weather. Of course, if the bad weather is here to stay, we can move your entire ceremony and party inside as well.
Looking for a venue that has it all? Look no further than Faulkner's Ranch.
Keep Your Guests Dry
If your venue doesn't have the luxury of an indoor and outdoor space, be prepared with umbrellas for your guests. They will need umbrellas as they are coming and going, along with a space for guests to stay dry during the wedding. If your guests are dry and comfortable they are much more likely to stay longer and participate in the festivities.
Keep Your Eye on the Sky, or at Least the Forecast
While most forecasts don't predict weather months ahead of time, knowing the chances of rain as your event gets closer will help you be better prepared to put your backup plan into action. On the other hand, forecasts also change very quickly, so stay up to date with the latest information daily and even on the day of.
Helpful Tip: Stay prepared by downloading the Weather Channel App for real-time weather updates throughout your wedding day!
Protect Your Dress… and Yourself!
You spend a lot of time and money looking your best on your wedding day, which is why planning ahead will pay off. Don't forget an umbrella for the bride, groom, and other members of the wedding party. Is your dress too big to fit under a regular umbrella? Try a patio umbrella instead! This way, your dress and your loved one walking you down the aisle will be protected.
Also, a sheet for under your wedding dress and some laundry wipes can help keep your dress dry and looking great the whole day even with bad weather.
Don't Get Stuck in the Mud!
Prevent your heels from sinking into the grass with these nifty heel covers. These reusable covers come in different sizes, and slide right over your heels to protect you from all the elements including cobblestones, bricks, grates, wooden decks, mud, soft grass and more. These also prevent damage to antique floors and woven carpets, making them useful for any venue.
Make the Most of Your Photos
You only get one day to document your wedding, so make the most of your pictures, rain or shine!  Props such as fancy umbrellas, or rain boots in your wedding colors can add some fun to your photos. If the weather makes it impossible to take outdoor photos, be sure to choose a photographer who can also take excellent indoor photos.
Stay Positive & Flexible
If the weather takes a turn for the worse, embrace it! This is a special day you will remember for years to come, no matter the weather. While you may have envisioned your day a little differently, it will be best to stay dry and happy.
Related Read: Sneak Peek: Weddings at Faulkner's Ranch
For more information on how you can plan your dream wedding at Faulkner's Ranch
visit our website
or
contact us today!