A Beattie-ful Wedding
Posted on July 24, 2014
It was a beautiful evening at the ranch on June 14th when Stephanie Shifflet married Keenan Beattie.
This wedding was perfect on every single level…
Besides having an adorable bride and groom (so in love!), this wedding had all of the elements that make for a beautiful ranch wedding.

The cowboy hats and vests…
A bride in boots..
And just how handsome does the father of the bride look in his western suit and bolo tie?
The groomsmen also looked fantastic in their jeans, vests, and boots. We love that the groom was the only one to wear a cowboy hat – it really set him apart! His turquoise shirt helped make him stand out too and added that perfect pop of color to the pictures.
The bridal party was stunning as well! We love the different shades of turquoise used for their dresses. Each dress fit each bridesmaid's personality.
Plus, we just couldn't get over how unbelievable cute the flower girls' dresses were…
Seriously! Too cute!
This wedding was also just full of wonderful ideas (take notes brides!).
First things first, the cake!
Any brides on a budget can use this idea.
See this cake?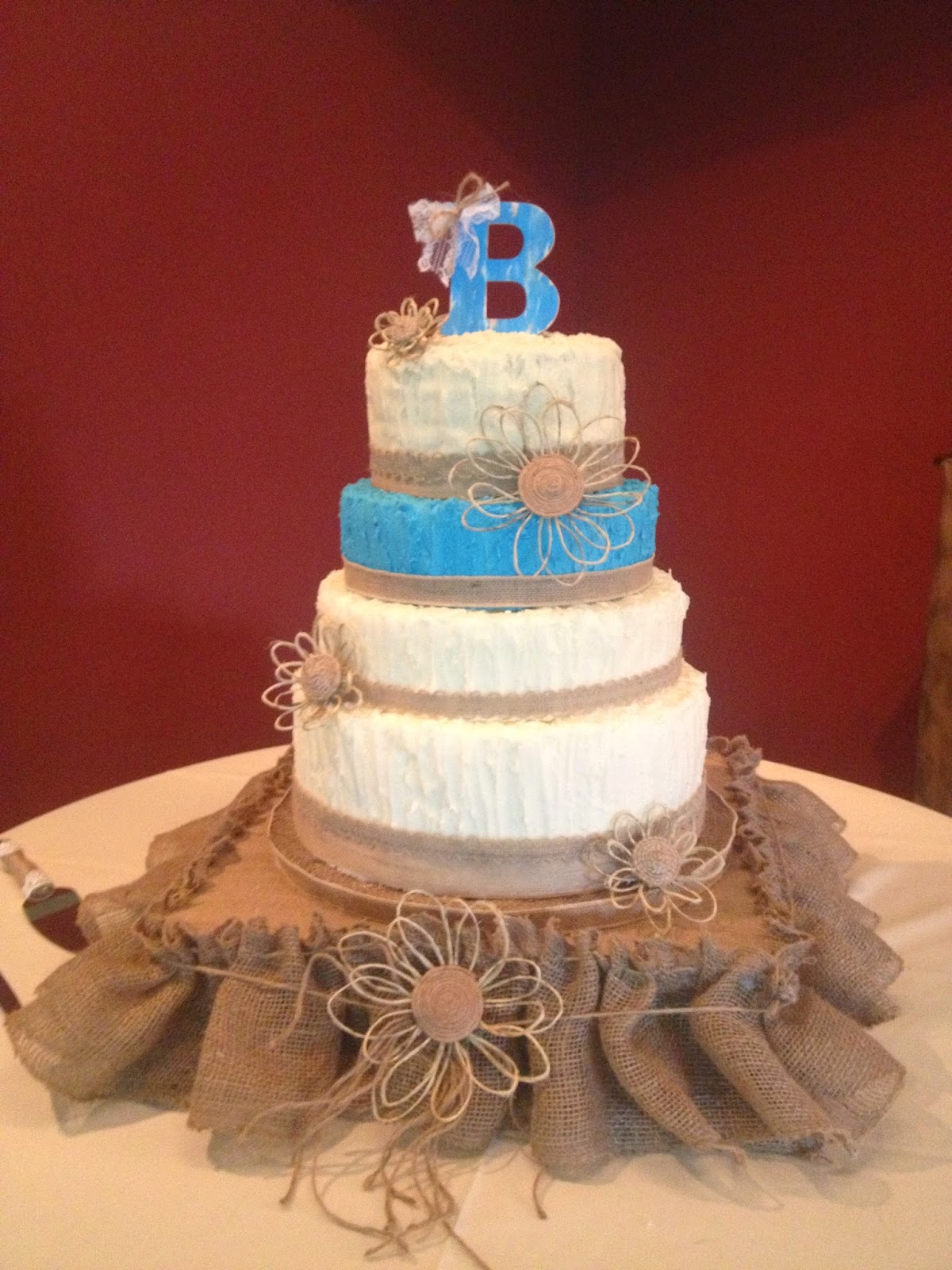 Guess what – only the top of it was real! That's right, the bottom three tiers were faux. They had separate sheet cakes to serve.
This is such a clever idea for a few reasons:
It saves money.
As Deborah from Cakes by Deb said, it allowed her to bake the sheet cakes fresh on the day of the wedding instead of a couple days in advance (they have to do that for decorating purposes on the tiered cakes) and the cake tends to dry out in that time.
It is easier to cut and serve.
Their cake flavors were so yummy: Lemon Creme with Crystal Lemon Zest, Death by Chocolate, Pineapple Carrot, and Wedding White.
Delicious!
They also had the cutest party favors – candy pecans in burlap bags!
If you are stumped on what to do for a favor, you can never go wrong with any kind of sweet treat!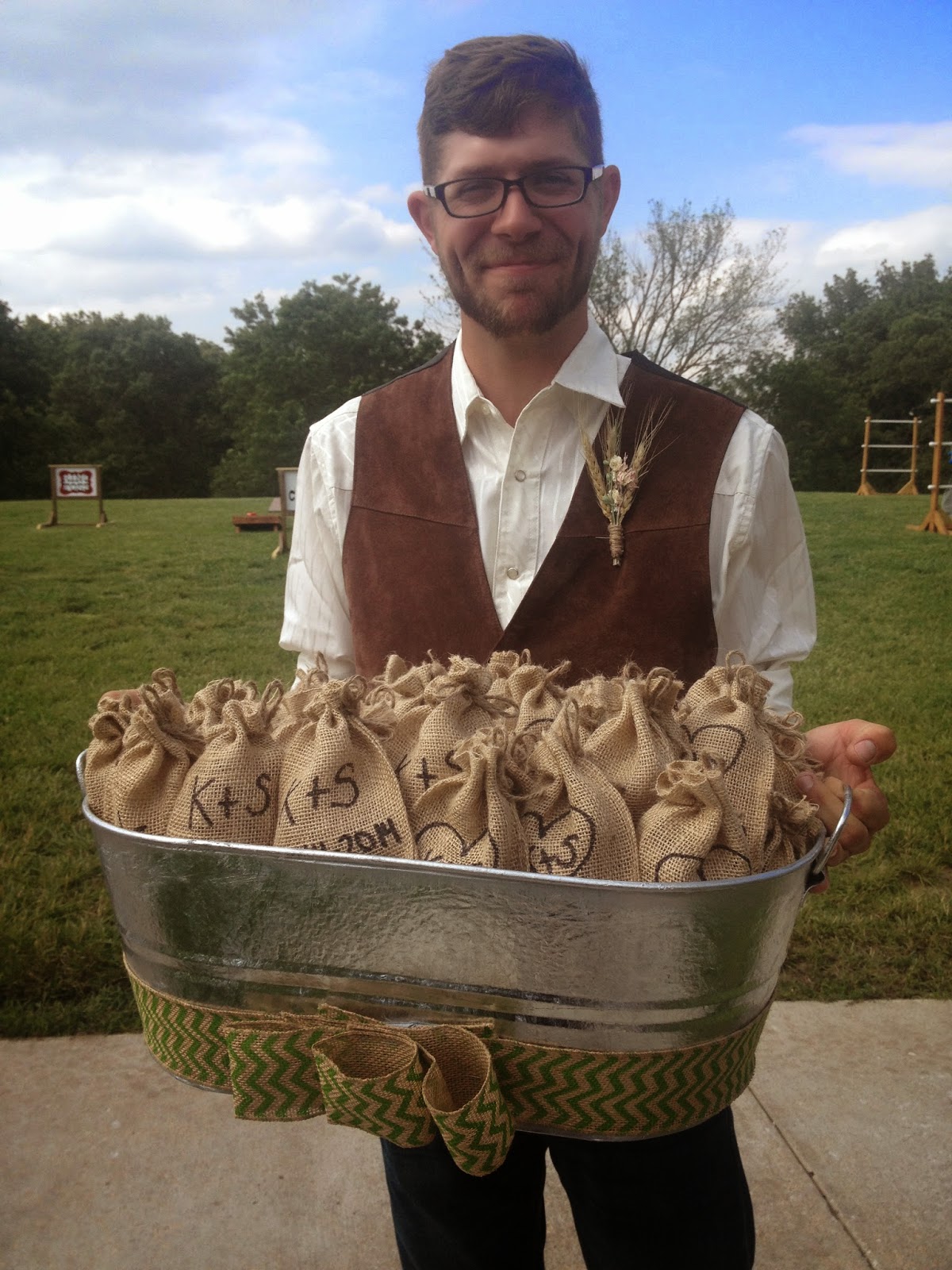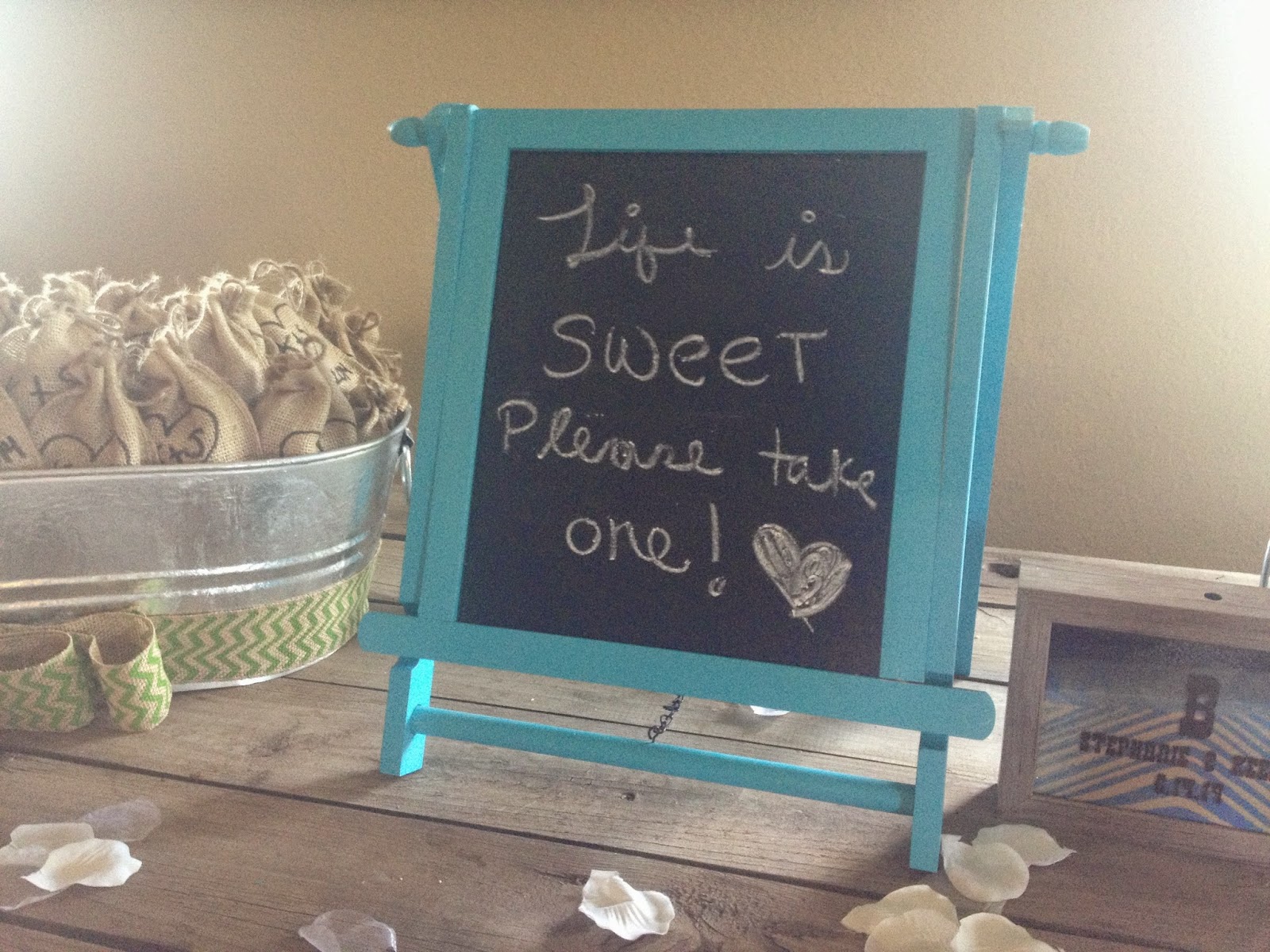 Another neat detail that we were absolutely obsessed with was their guestbook.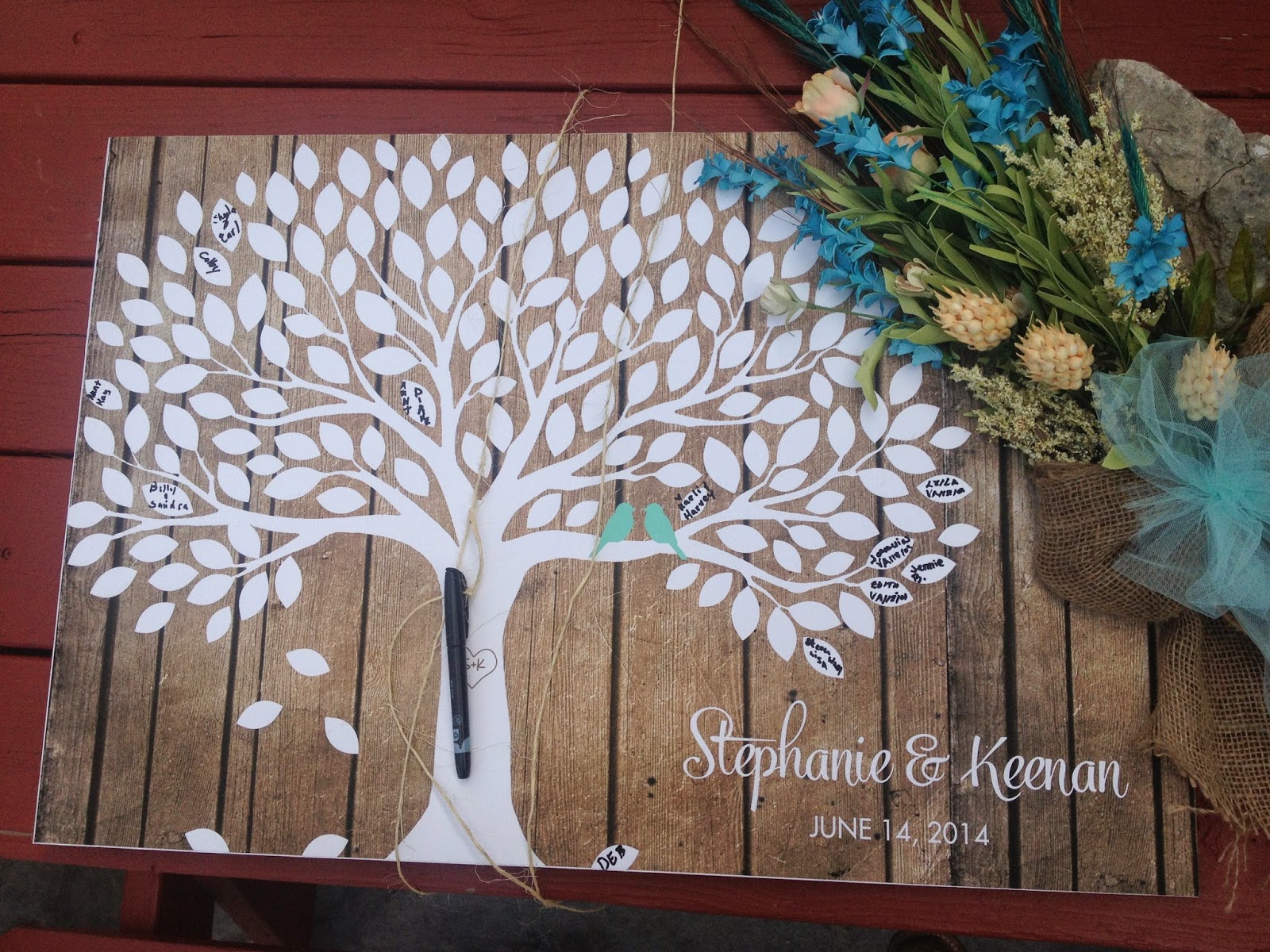 Well, it wasn't so much a guest book as a guest picture. Their friends and family signed this gorgeous piece of art in lieu of a traditional guest book. What we love most about this is that they are going to hang it in their home where they can see it everyday!
Another idea we really enjoyed was how they re-purposed items to add to the rustic vibe.
They put the program/schedule for the night on old window frames!
Check out this old cowbell transformed into a kissing bell!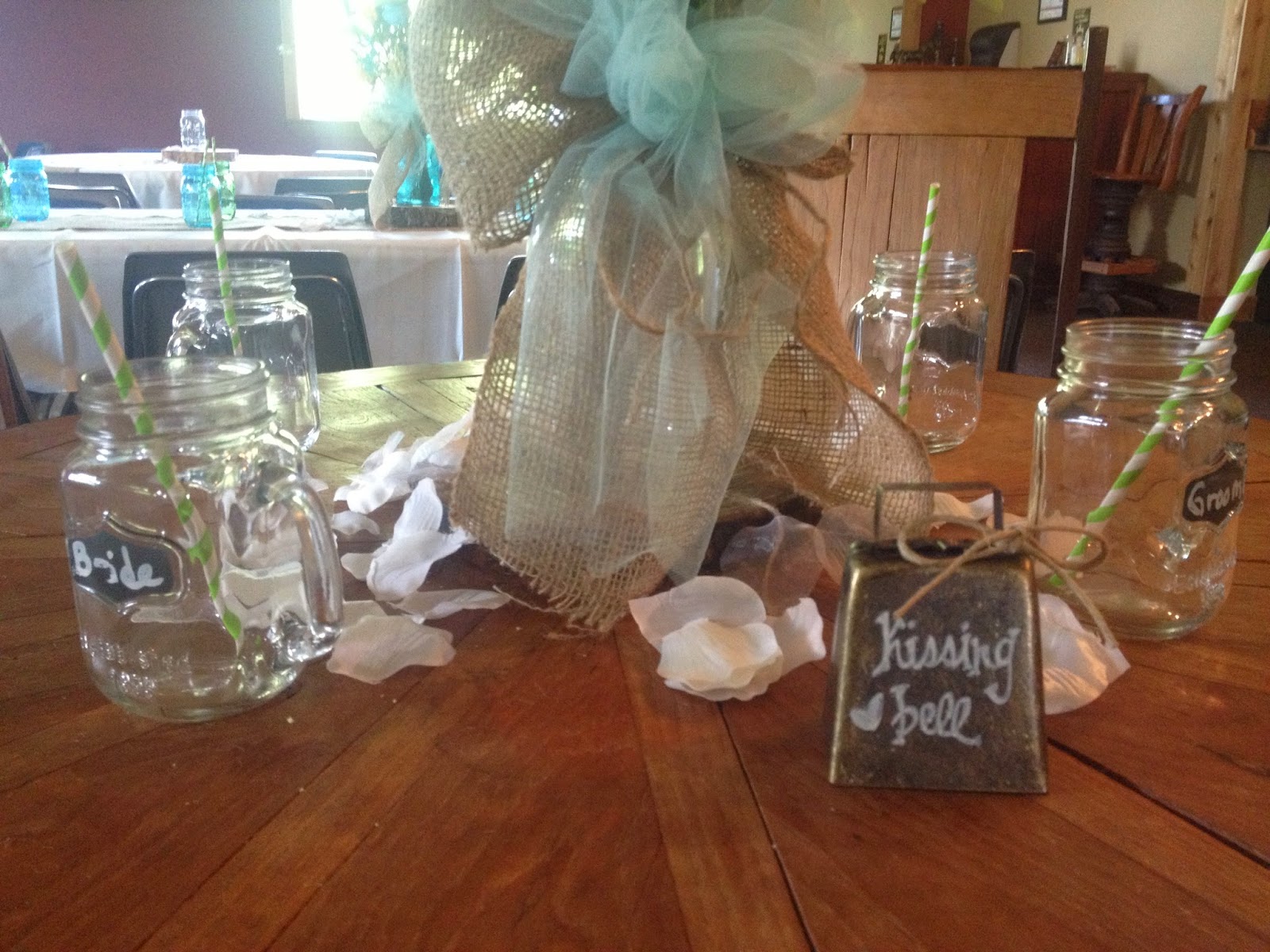 This is such a fun idea for the reception. After all, the bride and groom can never kiss enough on their wedding day!
We also loved their use of signage. Signs are always a good idea to help direct the guests to where they need to be. Plus, when done like this they are just darn cute!
They even had special signs on burlap for the bride and groom's chairs…
Drapery is always a great addition to the ranch. The combo of the soft flowy fabric and the rustic wood is visual interesting and helps create that rustic, romantic vibe.
Plus, we can never get enough twinkle lights!
We love how they draped them over the dance floor in front of the bandstand. It felt like we had traveled back in time to an old barn dance – so romantic!
Congrats once again to Mr. and Mrs. Beattie!
Your wedding was as beautiful as your love for each other!